The Grand Master receives a visit from the Director General of the International Organization for Migration
17/09/2018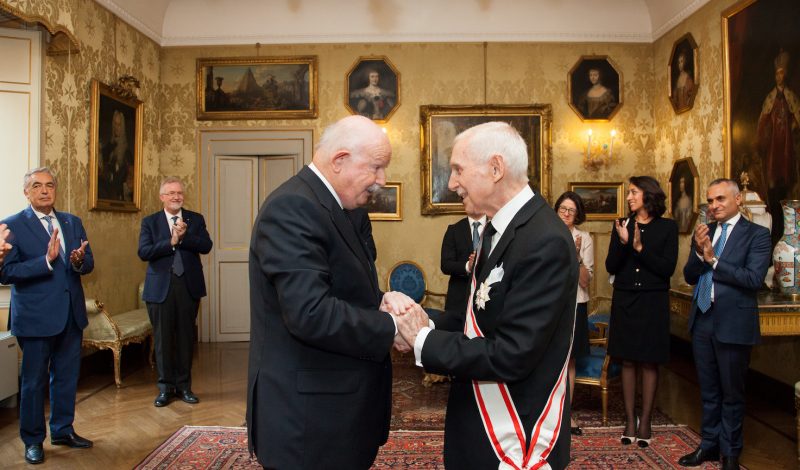 The Director General of the International Organization for Migration (IOM), Ambassador William Lacy Swing, was received this morning by the Grand Master of the Order of Malta, Fra 'Giacomo Dalla Torre, accompanied by the Grand Chancellor, Albrecht Boeselager. Focus of the meeting, which took place in a climate of great collaboration and mutual respect, the migratory flows that characterize the current era.
"Regarding the state of migration we can distinguish three different worlds," Ambassador Swing explained. "The first is a world on the move, the second is a world amidst a perfect storm and the third is what we must create to face the storm, a world on the High Ground".
In other words, Swing explained, migrations are a global phenomenon to be managed with ethical and moral tools. We need to tackle the drivers that push millions of people to migrate and we need to facilitate regular and controlled flows with full respect for human rights.
Ambassador Swing, who is approaching the end of his mandate as head of IOM – which thanks to his leadership entered the UN system in September 2016 – underlined the demographic challenge we are experiencing and the need to restore a more balanced public debate to promote integration.
The Grand Master expressed his appreciation for the important work carried out by the International Organization of Migrations and the Grand Chancellor briefly illustrated the activities of assistance and integration in favor of migrants, carried out by the Italian relief corps and by Malteser Werke the organ of the Order of Malta which in Germany manages about 100 reception centers.