Hungarian Association heads received by the Grand Master
18/09/2018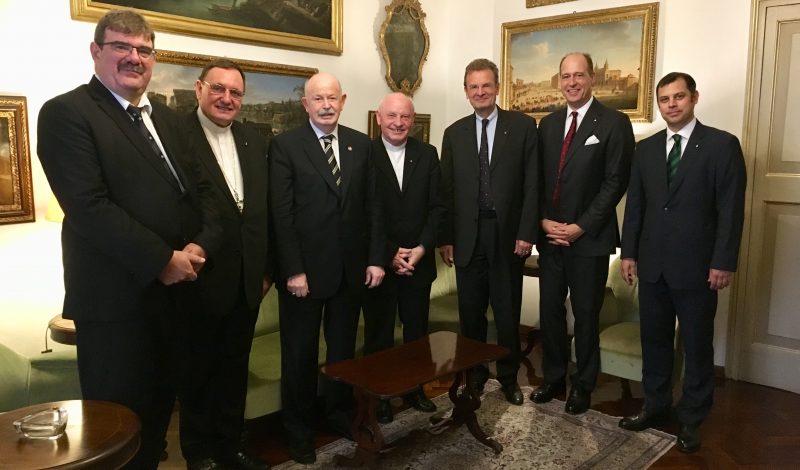 The Grand Master of the Order of Malta Fra' Giacomo Dalla Torre del Tempio di Sanguinetto received this morning the heads of the Hungarian Association of the Order of Malta at the Magistral Palace.
During the long and cordial meeting the President of the Association Kristóf de Szabadhegÿ de Csallöközmegyercs and the founder of the Hungarian Assistance Organization of the Order of Malta (MMSZ) Mons. Imre Kozma updated the Grand Master on the latest medical and social programmes developed in the Magyar Country.
Msgr. Imre Kozma recalled that next August, precisely on 14th, the 30th anniversary of the birth of the Order of Malta's Hungarian assistance body will be celebrated. The first refugee camp set up in Budapest, in the garden of the parish church of Zugliget to help the tens of thousands of refugees coming from East Germany, was set up in fact in 1989. For an intense period of more than three months, the organization of the Order gave assistance to almost 47,000 refugees. The event, known as the Day of Hospitality, is celebrated every year.
At the end of the meeting, Mons. Imre Kozma gave the Grand Master a statue representing two men embracing each other. Fra 'Giacomo dalla Torre said that as from today "this statue will represent the symbol of welcome to the Grand Magistry '.