The Grand Master in Venice: memories, affection and official meetings
25/09/2018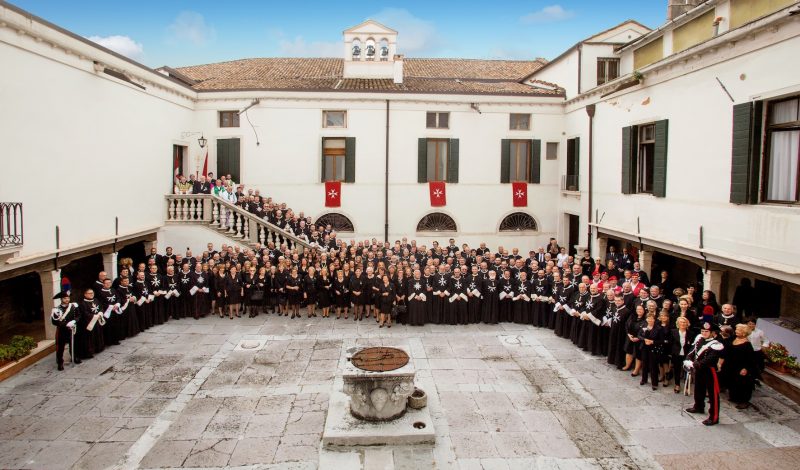 Over 300 members of the Order of Malta greeted Grand Master Fra' Giacomo Dalla Torre del Tempio di Sanguinetto on his first official visit to the Grand Priory of Lombardy and Venice.
No one could remember a Grand Priory Church so full as it was on Sunday 23rd September, when many had to remain standing during the entire religious celebration. But then again, the Grand Master had been Grand Prior of Lombardy and Venice from 1994 to 1999, leaving a lasting memory testified to by the many warm handshakes, affectionate embraces and recollections of the years spent together.
At the end of the Mass, celebrated by the Chief Chaplain of the Grand Priory, Msgr. Marco Navoni, the Grand Master took the floor to admit that "there is no way I can hide my emotion in being here today with all of you. I'm returning here, to Palazzo Malta seat of the Grand Priory of Lombardy and Venice, after so many years. The time I spent in Venice remains one of my dearest memories with the journeys, visits to the delegations and the works of this Grand Priory".
The Grand Master reminded the Order's members that "our mission is a precious gift. It has been bequeathed to us and we have to be able to transmit it to the future generations. Tuitio Fidei and l'Obsequium Pauperum must grow and prosper in our hearts". In reiterating the importance of a continual formation for all members, Fra' Giacomo Dalla Torre invited those present "to increase their efforts and double their commitment, because today's world has a desperate need to listen to the word of God and for people capable of alleviating poverty and suffering".
The Grand Master's Three Days in Venice
On Friday afternoon, accompanied by the Procurator, Clemente Riva di Sanseverino, and by the Grand Priory leadership, the Grand Master visited the Holy See's pavilion at the 16th International Architecture Exhibition, celebrating a new and fruitful union between architecture and faith. Afterwards he attended a concert given by the violinist Fabrizio Von Arx in the basilica of San Giorgio Maggiore.
On Saturday morning, there was a particularly touching moment in St. Mark's Basilica when the Grand Master attended the mass celebrated by Cardinal Gianfranco Ravasi, President of the Pontifical Council for Culture, with a group of mothers united by the tragedy of having lost a son or daughter.
Subsequently the Grand Master was received by Msgr. Francesco Moraglia, Patriarch of Venice and Conventual Chaplain Grand Cross of the Order, for a friendly meeting.