Church of Santa Maria on the Aventine glows again after two years of restoration
29/03/2019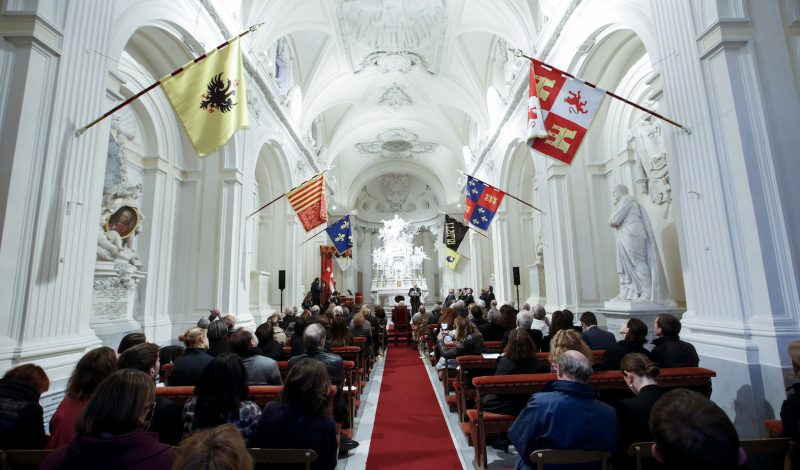 The restored face of Giovanni Battista Piranesi's only architectural work presented yesterday to the press and institutional guests
Two and a half centuries after its construction, the important restoration of the Church of Santa Maria on the Aventine, work of the Venetian genius Giovanni Battista Piranesi, was presented yesterday. The renovation, involving both the interior and exterior of the church, was commenced in 2015 from the altar and completed a few days ago. 900 square metres of scaffolding, 12 metres high, were necessary to restore the only architectural work of the famous Venetian engraver to its original glory. Thus one of the oldest churches in Rome glows again on the Aventine Hill in the complex of the Magistral Villa, seat of the Sovereign Order of Malta's government.
In front of a considerable media presence, the curator of the Order of Malta's Art Collections Fra' John Critien illustrated the most salient features of the church, whose renovation Cardinal Giovanni Battista Rezzonico – Gran Prior of the Order and nephew of Pope Clement XII – entrusted to Giovanni Battista Piranesi in 1764 together with the Villa and the Piazza in front. The work – concluded in October 1766 – consolidated the structure of the 16th-century church and raised the side walls. Piranesi also restored the vault and designed the decoration for its new aspect.
Very few interventions have been made since then, except for those of ordinary maintenance, something that renders the recent restoration particularly significant, generously sponsored by the Fondazione Roma and Grand Priory of Rome.
"The restorers used only scalpels for their meticulous work, carried out with extreme delicacy especially in those parts where inappropriate decoration had covered the original moulding," the technical director of the work, architect Giorgio Ferreri, explained, pointing out the richness and minutiae of the details, testifying to the great talent of the Venetian engraver. "The method adopted was that of the restoration of painted surfaces, like a picture," Ferreri said.
The inauguration of the Church was enriched by J.S. Bach's partitas and sonatas for violin with the reading of passages from an anonymous manuscript, written in the period after Piranesi's intervention around the end of the 18th century and referring to the completed restoration. Some 150 guests admired the splendour and magnificence of the building, adorned with symbols of the Order of Malta, to which Piranesi was profoundly linked, as Grand Master Fra' Giacomo Dalla Torre recalled in his concluding address: "The church eloquently represents the patronage of Cardinal Rezzonico and that of the Order of Malta. This is testified to by the many symbols on the vault, in the niches and on the façade, as well as in the piazza dei Cavalieri di Malta, that narrate the military and naval deeds of our ancient institution, and its character as a religious order of the Catholic Church."
"It is the responsibility of the Order's government to preserve and enhance the artistic and cultural heritage of which we are transitory beneficiaries," Fra' Giacomo Dalla Torre concluded.