Order of Malta first aiders on duty throughout Pope Francis' visit in Romania
05/06/2019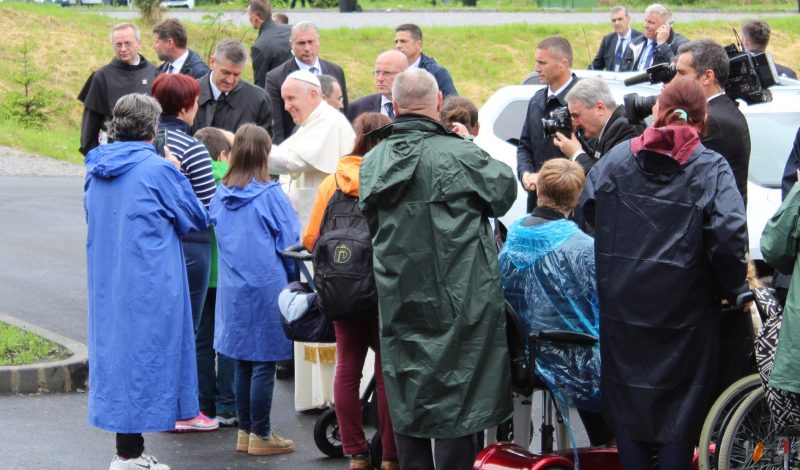 Twenty years after John Paul's historic visit – the first in an Orthodox country since the schism of 1054 – Pope Francis came to pray and to bring his message to the people of Romania: 'To walk together, both among Christians, on the level of faith and charity, and among citizens, on the level of civil commitment.' Everywhere he went he was greeted by thousands of the faithful.
During the three days of the visit, 31 May – 2 June, His Holiness celebrated four Masses:
– in St Joseph's Cathedral (where members of the Romanian Association of the Order were in attendance);
– in Șumuleu Ciuc, the major Marian pilgrimage shrine in Transylvania, where a group of twenty members of the Order attended. The relic of St Ladislaus I of Hungary was brought from Somogyvár Abbey in Hungary and for the last 50 km, right up to the altar, the relic was escorted by the Order's members;
– in Iasi, the capital of Moldavia, an important centre of the Roman Catholic Church in Romania;
– and on 2 June, in Blaj, seat of the Romanian Church United with Rome, Greek-Catholic, where His Holiness was welcomed by over 100,000 pilgrims. Here, the Pope beatified seven Greek-Catholic bishop-martyrs who had died for their faith during communism. Francis also visited the city's Roma community, renewing his appeal against all forms of discrimination and for respect for people of all ethnicity, languages and religions.
In Bucharest, Șumuleu Ciuc and Blaj, over 100 volunteers of the Order of Malta's Romanian Relief Organisation, Serviciul de Ajutor Maltez în România (SAMR), assisted in organising and overseeing the events, with responsibilities including the transportation of disabled pilgrims.
The Relief Organisation in action
The Order's Relief Organisation volunteer teams provided a range of support services:
– in Blaj they cared for almost 200 disabled pilgrims and their attendants, bringing them to the Mass;
– in Șumuleu Ciuc, on 1 June, international children's day, they brought more than 200 children from orphanages or poor families to the church in five minibuses, and offered accommodation and food;
– they set up a tent to assist nursing mothers and their infants;
– in Șumuleu Ciuc and Blaj medical assistance covered treatment of 200 first aid cases – fractures, sprains, wounds, nausea, etc.
For each event, the volunteer teams distributed the entrance tickets to the Masses, as well as water, tea, rain capes, information folders, etc. and the pilgrims were coordinated in their assigned sectors. Special 'pilgrims' bags' – including rosaries and the texts and hymns for the services – were prepared and distributed.
As well as the first aid service, 360 Order volunteers from all over Romania attended the Mass in Șumuleu Ciuc as pilgrims.