The Order Of Malta's 25 years of humanitarian diplomacy at the United Nations
11/06/2019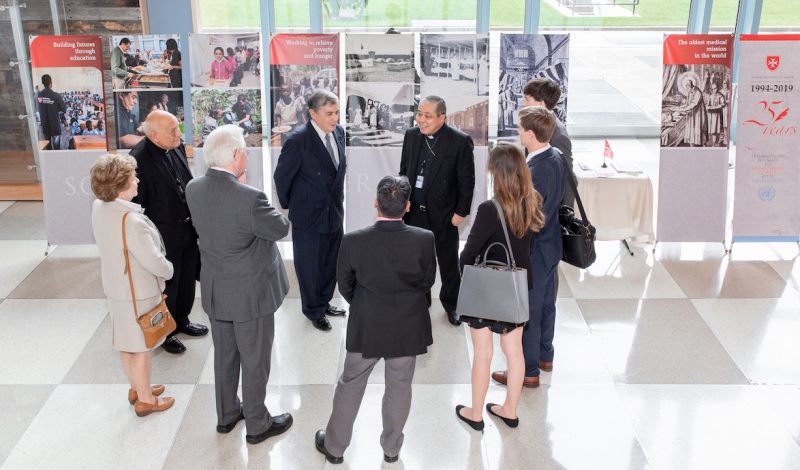 The Sovereign Order of Malta commemorates its 25 years in the United Nations Headquarters in New York. Since 1994 it has enjoyed the status of Permanent Observer to the UN, a position that facilitates its diplomatic activities, both multilateral and bilateral.
To celebrate this anniversary, at the beginning of June a photographic exhibition was set up at the delegates' entrance to the UN building: besides recalling the almost millenary hospitaller mission begun by Blessed Gerard, it describes the many activities the Order's various entities carry out in 120 countries on all the continents thanks to the efforts of 13,500 members, 80,000 volunteers and 42,000 professionals. The Apostolic Nuncio in the UN, Archbishop Bernardito Auza, blessed the exhibition on 7th June.
The Sovereign Order of Malta has permanent observer missions to the United Nations in New York, Geneva, Paris, Vienna, Rome, Nairobi and Bangkok and its specialised agencies maintain diplomatic relations with 108 countries. The United Nations, where all these countries are represented, "offers a unique setting," says Oscar R. de Rojas, the Sovereign Order's ambassador to the UN, "where the Order can describe its work and contribute with its rich experience in global decisions on important issues, from development to human rights, from humanitarian assistance to international law. The basic aim of the Order's mission," the ambassador explains, "is to strengthen its presence and participation in the debate on world crises and in commitment to cooperation at international, national and regional levels, promoting areas of possible and effective cooperation in sectors such as humanitarian aid and emergency aid".
One of the most important issues for the United Nations today is that of refugees and migrants. The Order's permanent missions, in New York as well as in Geneva, have closely followed the preparatory works for the adoption of the Global Compact on migration and refugees, agreements that "represent important milestones" for international cooperation on these topics. The assistance to migrants, refugees, victims and survivors, the promotion of equality, non-discrimination and the respect of human rights are the keys to achieving lasting peace settlements and to promoting a sustainable development.