Ebola in DR Congo: Malteser International scales up its regional assistance programmes
19/07/2019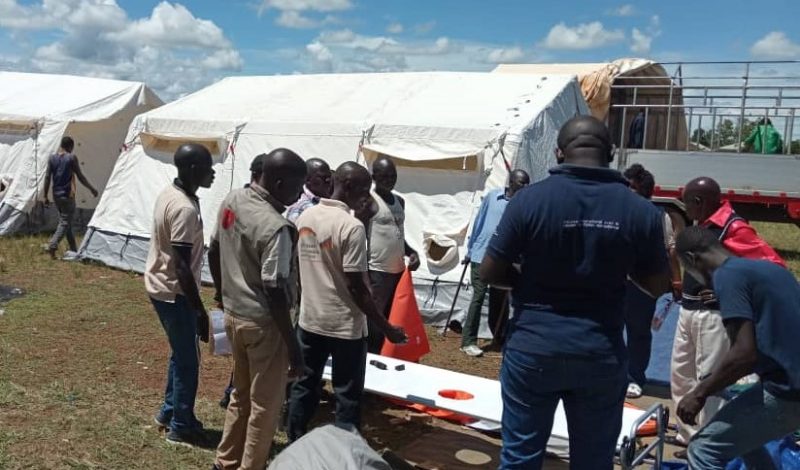 WHO has declared new outbreak a "global emergency"
After the announcement of the World Health Organization (WHO) declaring the Ebola crisis in the Democratic Republic of Congo a "public health emergency of international concern" and the warning of a possible outbreak spreading across the region, on 17 July, Malteser International scaled up its regional prevention programmes. The Order of Malta's worldwide relief agency, has been providing assistance in the DR Congo since 1996 and has been involved in the containment of the Ebola virus, working with the local Ministry of Health and supported by the German Federal Foreign Office.
"We are setting up an isolation unit in Ariwara, in the North East, to prevent further spread of the deadly virus," said Roland Hansen, Malteser International's Africa Team Leader. "One patient, who unfortunately passed away, had travelled nearly 500km from Beni to Ariwara by public transport. There is a high possibility that other people are now also infected. We therefore need to step up our efforts to control the epidemic."
In close cooperation with the Congolese Ministry of Health and the World Health Organization (WHO), Malteser International is working to improve hygiene and infection prevention and control measures in the region. "We will distribute protective suits to hospitals and set up screening posts and isolation units in public places. Our trained workers in Ariwara are now taking temperatures in public areas and roads leading to the city, identifying people showing symptoms compatible with the disease and transferring them to hospitals for treatment," said Hansen.
Malteser International teams are also carrying out health promotion activities and reinforcing community engagement. "Our radio programs, for example, are raising awareness of the community about Ebola. In addition, we have set up hand washing stations where many people come together. This way we can prevent the epidemic from reaching places that are Ebola-free," said Hansen.
The Ebola outbreak in DR Congo began a year ago, with the first cases confirmed in August 2018. In the eastern provinces of North Kivu and Ituri, 2,522 people have been infected with the virus since July 2018 and 1,698 have died. Emergency response teams have so far struggled to provide adequate support to fight the outbreak, in part due to the ongoing violence in the region.
The Ebola epidemic that devastated parts of West Africa from 2014 to 2016, has killed more than 11,000 people.