Third Asia Pacific camp for disabled youths kicks off in Hong Kong
23/10/2019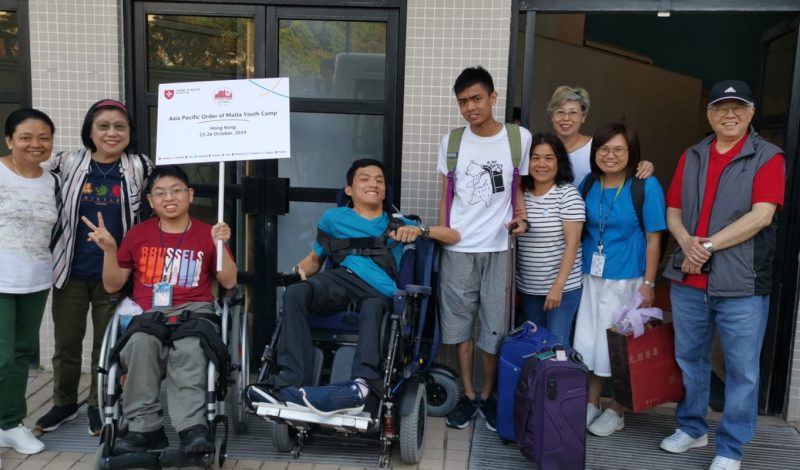 The third summer camp for the disabled young in the Asian and Pacific area began today in Hong Kong in an atmosphere of general enthusiasm, thanks also to the fine weather. The Order of Malta's Hong Kong Association and its volunteers received the guests together with local and foreign volunteers, who had responded en masse and even crossed oceans to reach the city-state.
After the inaugural mass and welcome speeches by the President of the Hong Kong Association Denis Chang and the Hospitaller Desiree Jebsen, the camp was declared open by Grand Hospitaller Dominique de La Rochefoucauld-Montbel. Guests from each country paraded with their flags to great applause from all participants. There are 33 disabled guests and some 50 volunteers plus 20 staff who will animate this third edition of the youth camp.
On the first day there was already a taste of the numerous activities organised for the young people. In the Activity Center of the Hong Kong Jockey Club in Pokfulam guests could swim, making the most of this sunny day, or practise archery. There was also an artificial climbing wall with harnesses for all guests, including those in wheelchairs. The Grand Hospitaller took up this challenge as well, climbing the wall with the young guests. For the less enterprising there were various creative activities, from make-up to bricolage workshops and numerous other indoor games.
Tomorrow and Friday there will be a voyage on the Adventure-Ship, an organization that helps young people of all abilities to develop self-esteem and self-confidence through adventures at sea. Guests will not only be able to admire Hong Kong's beautiful coastline but can also take the tram that climbs to Victoria Peak, the highest point of the island, offering them a spectacular view over the city and its port. Music and magic are planned for the evenings. A DJ has come from Berlin and a professional magician will amaze and delight everyone with his tricks.
This is one of the first international camps for disabled youths to be held in Hong Kong. Sophie and Alfons Mensdorff-Poully, leaders of the camp, spent a year meticulously planning it, coordinating an extraordinary group of volunteers.
There are seventeen Hong Kong guests, with the others coming from Indonesia, continental China, Cambodia, Australia and Netherlands. The Hong Kong volunteers are flanked by those from Singapore, Australia, Cambodia, United States, China, Germany, Austria, Korea, United Kingdom and Italy.