Mons. Jean Laffitte in first visit to Romania
28/10/2019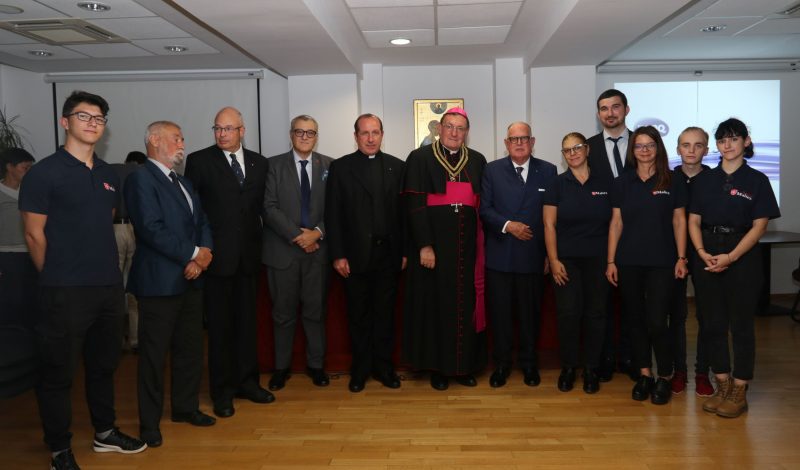 Prelate meets members of the Order's Relief Service and visits a range of activities
At the invitation of the Order's Romanian Association, the Prelate of the Order of Malta, Mons. Jean Laffitte, completed his first visit to the country at the beginning of October, where he was delighted to meet members of Association and representatives of the Order's Relief Service in Romania (Serviciul de Ajutor Maltez in România – SAMR).
Arriving in Cluj Napoca, he visited the headquarters of the Relief Service and learned more about their wide-ranging programmes to help those in need, from the elderly, to disadvantaged children, to the disabled, and Roma communities in the region. The Service operates in 26 locations, with 1,000 volunteers and 100 staff, providing projects for over 4,000 each year. Some of the activities in Cluj include a kindergarten for young disabled and an after school programme to integrate vulnerable young people.
Next day he met with Francois Catto, President of the Romanian Association of the Order of Malta, Roberto Musneci, Ambassador of the Order, members and chaplains, as well as volunteers and beneficiaries. Travelling on to Blaj, he visited the local branch of the Service, which runs a day centre for disabled children, and talked with volunteers and many families they have assisted. Then to the Greek-Catholic bishop of the Alba and Fagaras Diocese, and an inspection of the famous 1532 chapel, followed by a special trip to Sumuleu Ciuc, the most important Marian shrine in Romania.
On the feast day of St Francis, Mons. Laffitte celebrated Mass at the Relief Service chapel in Sfantu Gheorghe, the organisation's largest branch. Final destination was Bucharest for a conference on the spirituality of the Order of Malta, an encounter with the auxiliary bishop of the Roman Catholic Archdiocese and a Mass in the Carmelite Monastery of Ciofliceni.
© Calin Piescu