"Thank you, thank you, thank you!" Grand Master to pilgrims at Our Lady of Loreto Shrine
29/10/2019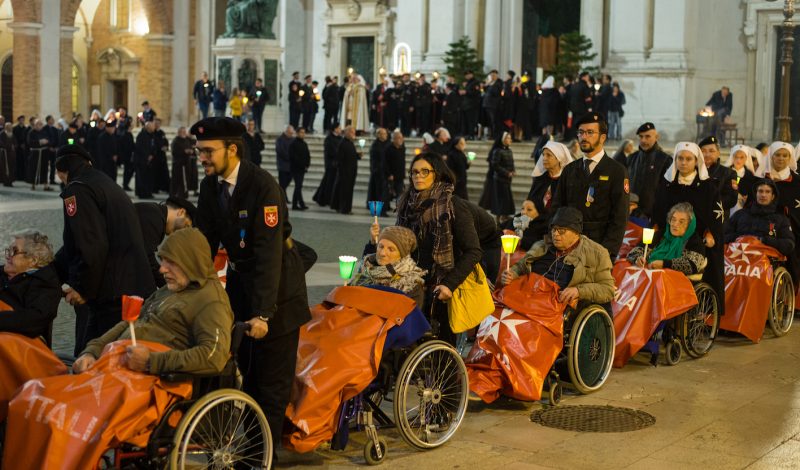 This the year the Order of Malta's annual pilgrimage to the Sanctuary of Our Lady of Loreto, in central Italy, was blessed with three days of magnificent weather: the contrast between the blue sky and the white basilica of the Holy House will long remain engraved in the memories of the over 1700 participants.
Almost 250 sick and disabled people, some with serious pathologies, participated in the traditional Marian pilgrimage. Among the pilgrims, besides 43 priests and a hundred or so doctors and nurses, the red berets of the "young helpers" stood out – some 150 volunteers aged between 5 and 16, who brought water and served in the refectory.
To them and to the others present, Grand Master Fra' Giacomo Dalla Torre del Tempio di Sanguinetto expressed his heartfelt "thank you", repeated three times, prompting a long and spontaneous applause at the end of the Sunday celebration presided by the Order's prelate, Monsignor Jean Laffitte. Together with the Grand Master there were also the Grand Commander Fra' Ruy Gonçalo do Valle Peixoto de Villas Boa, the Grand Hospitaller Dominique de La Rochefoucauld-Montbel, some members of the Sovereign Council and the procurators of the three Italian Grand Priories.
During his homily on the Gospel of St. Luke, the prelate cited as an example for the many young people present the Venerable Carlo Acutis, the 15-year-old who died from acute leukaemia 15 years ago and for whom a cause for beautification has been initiated.
There was a moment of great emotion when the Lauretan cross was conferred in the memory of Vice-brigadiere Mario Cerciello Rega killed in service last July, received by his widow Rosa Maria Cerciello, in consideration of the work the carabiniere carried out as an Order of Malta volunteer.
Since the Middle Ages it has been believed that the Holy House of Loreto was where the Virgin Mary lived and raised the young Christ. In 1469, a great basilica was built around the small sanctuary and this holy place attracts four million pilgrims and visitors every year.
Photo Credit: Giorgio Minguzzi