Russia and the Order of Malta 1697-1817: French edition presented in Rome
04/11/2019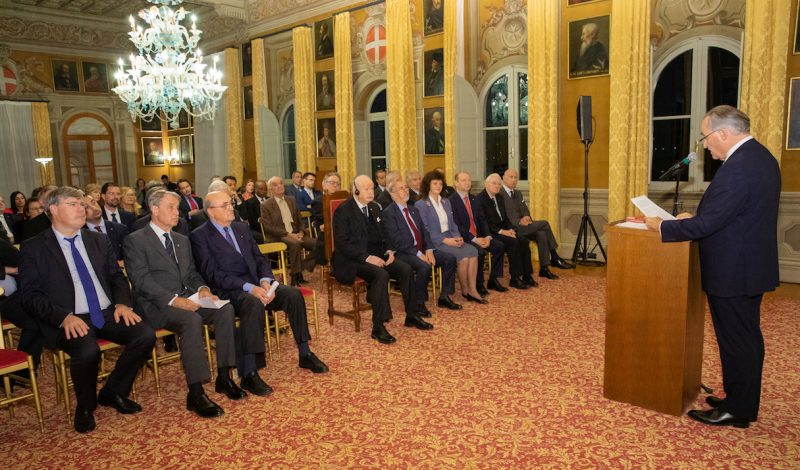 The French edition of the book Russia and the Order of Malta 1697-1817 has been launched in Rome in the Magistral Villa. The unique nature of this publication was illustrated in the presence of Grand Master Fra' Giacomo Dalla Torre del Tempio di Sanguinetto and numerous diplomats. The Order of Malta's Grand Hospitaller Dominique de La Rochefoucauld-Montbel explained that the aim of this work 'is to provide a complete picture of the complex but fruitful relations between the Sovereign Order of Malta and the Russian Empire during a fundamental period in both their histories'.
For the first time, the book collects documents from the archives of the Grand Magistry of the Sovereign Order of Malta, the Malta National Library, the French National Archives and Foreign Ministry as well as the Vatican Secret Archives. The version in Russian was presented last June in the Ministry of Foreign Affairs in Moscow.
Some hitherto unpublished documents, among the many present in this book, 'tell us that, during the reign of Catherine I, members of the Russian Navy were trained in Malta,' the Grand Hospitaller explained. 'I can also add with a certain pride," he continued, 'that the tradition of training and sharing know-how is still an important aspect of the Order's activities: from naval tradition to medical training.'
The most intense period in the relations was that between 1797 and 1801 under the reign of Tsar Paul I. 'The start of this period,' said Dominique de La Rochefoucauld-Montbel 'is marked by the document that establishes the Grand Priory of Russia in St. Petersburg and which admitted Catholic members of the Russian aristocracy, safeguarded the Order's properties in Russia and in Poland and gave financial support to the Order. This deed, written in Russia, was sent to Malta to be ratified but the French soldiers under Napoleon intercepted it in Ancona and published it in French newspapers. One of the first Wikileaks of modern times!'
At first sight, 'the span of 120 years, from 1697 to 1817 or from the reign of Peter the Great to that of Alexander I, covered by the documents presented in this book, can seem brief,' said Gianfranco Facco Bonetti, for twelve years the Sovereign Order of Malta's ambassador to the Russian Federation. But 'the exceptional nature of the epoch described abundantly compensates for the chronological restriction,' he concluded.
The launch finished with a speech by Alexander Avdeev, former Minister of Culture and now ambassador of the Russian Federation to the Holy See and the Sovereign Order of Malta, who said that the five years of joint efforts will give 'a further impetus to our already wide-ranging cooperation'.