Order of Malta Singapore organizes fourth Lourdes Experience with over 11,000 pilgrims
10/12/2019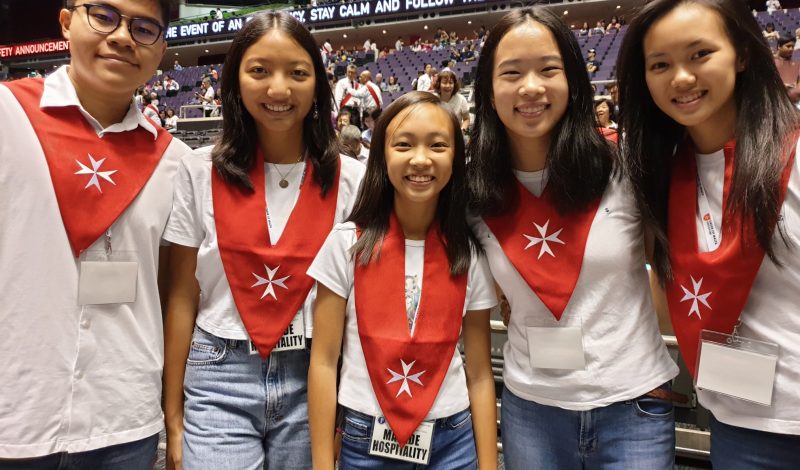 Singapore's fourth Lourdes Experience of the Order of Malta event held on Saturday, 7 December, at the Singapore Indoor Stadium was attended by approximately 11,000 pilgrims. Sick and needy people attended in big numbers, coming from the 32 local Catholic local churches, organisations and homes for the elderly.
In her opening speech, the President of the Singapore Association, Rose Lu shared her reflections on the theme of the event – "Blessed are you who are poor, for yours is the kingdom of God". In an attempt to offer the local pilgrims an experience of the Lourdes pilgrimage, the main religious activities held in the French holy Marian site were the highlights of the day. The afternoon started with the stations of the cross followed by the eucharistic celebration, adoration of the blessed sacrament, blessing of the sick and the rosary procession.
In his homily the Archbishop of Singapore, Most Rev Monsignor William Goh reinforced the importance of doing God's Will.
Throughout the 5-hour event, pilgrims participated actively. The event ended on a spiritually uplifting note with the Marian rosary procession. The statue of our Lady of the Immaculate Conception was carried in procession for the first time at the Lourdes Experience event.
The Order of Malta has a very strong tie with Lourdes. For over 60 years,it has been organizing its international pilgrimage to the French shrine. Several thousand members and volunteers, from all over the world gather at the beginning of May for a heart-warming experience taking care of the sick they accompany and attending their needs.