Luca Rovati: the coronavirus emergency has taught me people have big hearts
29/03/2020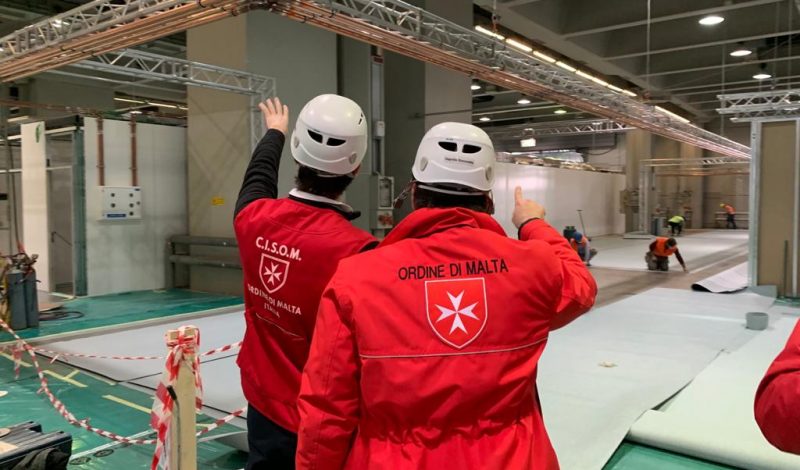 For a month now Luca Rovati, hospitaller of the Order of Malta's Italian Association and counsellor of its Italian Relief Corps, has been in the frontline combating coronavirus.
Rovati, the new hospital in the Fiera di Milano area is almost ready, despite the difficulties. When will it accept the first coronavirus patients?
I hope that the first two wards with 30 beds can open on Thursday, 4th  April, after which a new ward will be opened every two to three days. It will be one of the largest intensive-care facilities in Europe, with a total of 200/250 beds and will receive the most severe coronavirus cases from overwhelmed hospitals in Lombardy.
What is the role of the Italian Relief Corps?
Besides suggesting to the Lombardy Region that Guido Bertolaso, former head of the Italian Civil Protection department, should be in charge of setting up the hospital, the Order of Malta's Italian Relief Corps (CISOM) has cooperated with him, giving him every possible support since his arrival in Milan. Suffice it to say that the operations centre of the new hospital is the corps' headquarters in Milan. Inside the Fiera di Milano area our volunteers, with the personnel from the region and the Fiera, are working night and day. Moreover, many of the materials for putting up the hospital, estimated at some 4.5 million euro to date, have passed through and are managed by CISOM.
The task of finding 260 ventilators was important?
Yes, it was essential, but proved to be extremely complicated. Essential, because without these machines it is impossible to set up intensive or sub-intensive care units. Complicated, because the whole world now wants this type of equipment. Sourcing them, buying them at a fair price (some are now being offered at 3/5 times their normal value), but also finding a way to bring them from China to Milan with air transport blocked was not easy, believe me.
Then there was the idea to ask Albanian doctors for help. How did that come about?
Two weeks ago, I received a phone call from a friend Albanian entrepreneur, who asked me what was needed. I immediately said doctors and nurses. I must confess I didn't have high hopes. Albania also has to prepare for the possible spreading of the infection. Instead, thanks to the involvement of Albanian authorities, including the prime minister and the minister of health, with the cooperation of the Italian foreign affairs ministry, today 30 Albanian doctors and nurses have arrived in Bergamo. They will certainly be of great help to the Italian doctors in the Italian province currently hardest hit by the virus. Thanks also go to Stefano Palumbo, the Order of Malta's ambassador to Albania; his intervention to facilitate this operation was fundamental.
What are the next steps?
The president of the Order of Malta's Italian Relief Corps, Gerardo Solaro del Borgo, is already working with the Marche Region to set up a hospital in the Fiera di Civitanova Marche on the model of the Milan one. A fund-raising campaign has been launched, channelled to CISOM's current account. In the meantime, all over Italy, our volunteers are doing a great job, taking assistance, food and medicines to those who are elderly, isolated or in difficulty. Without forgetting the valuable work carried out by our psychologists. Just think how important it is to offer support to doctors, nurses and volunteers facing this terrible situation in the front line. My admiration and my gratitude go to them all.
The next steps also include setting up intensive care units in the Order of Malta's hospital in Rome?
Half of our Rome St. John Baptist hospital has been converted in record time to receive coronavirus patients. The other half continues to operate normally, albeit with all the necessary precautions. In this initial stage we can assist our patients if they show symptoms of the virus. In a second stage, with the authorization of the Lazio Region, we will also be able to receive patients from other hospitals, including those in need of intensive care.
What has this experience taught you?
No country in the world was prepared to face a crisis of these proportions. When all this is over, we will have to reflect on how we can better tackle a tragedy like this. For example, it is impossible not to have or to produce a sufficient quantity of such a basic device as masks. Having said this, I was struck by people's generosity and altruism. There are so many who are currently risking their lives to help others. And this is a great sign of hope.