Order of Malta celebrates St. John the Baptist
26/06/2020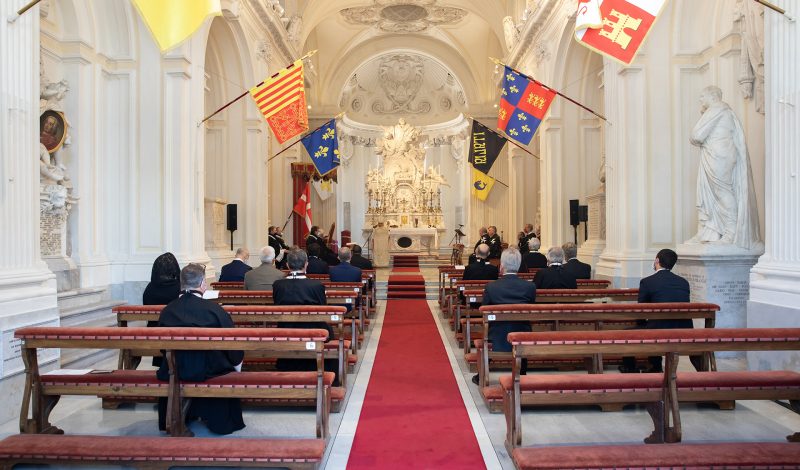 The tradition to celebrate the feast of St. John the Baptist in the church of St. Mary on the Aventine – inside the Magistral Villa complex in Rome – has been respected. On the morning of 24 June, the Lieutenant ad-interim, Fra' Ruy Gonçalo do Valle Peixoto de Villas Boas, attended the mass celebrated by Cardinal Giovanni Angelo Becciu, with members of the Sovereign Council.
The social distancing guidelines for preventing coronavirus infection meant that it was impossible for the entire Diplomatic Corps accredited to the Sovereign Order of Malta to be present. The corps was represented by its doyen, Ambassador Antoine Zanga of Cameroon.
During his homily, Cardinal Becciu first recalled Grand Master Fra' Giacomo Dalla Torre del Tempio di Sanguinetto, called to God on 20 April last. Reflecting on the figure of St. John the Baptist, the cardinal said that "like John, we are also called to place Jesus Christ at the centre of our personal and community life, at the centre of our humanitarian and social commitment. Unfortunately haste often wins today; we no longer have the patience to stop in the desert, to rest in silence, to desire purification. We want everything right away, risking improvisation, shallow meditation and a lack of inner strength".
'John the Baptist's way of being," Cardinal Becciu stressed, "shows us the church's way of being, as well as ours who belong to the church, and who are also proud of belonging to the Order of Malta". Helping the poor, caring for the sick and supporting the most vulnerable is not self-celebration or protagonism, but the proclamation and witness of God's merciful love for every creature."
At the end of the mass, the Lieutenant ad-interim greeted Cardinal Becciu, the Order of Malta's prelate, Msgr. Jean Laffitte, the Cameroon ambassador and the guests present in the villa garden.
The feast of the patron saint was celebrated by the Order of Malta's Grand Priories, Associations, Embassies and Relief Corps on the five continents.