The Order's Hospital in Dakar: a new department for better reception
01/02/2021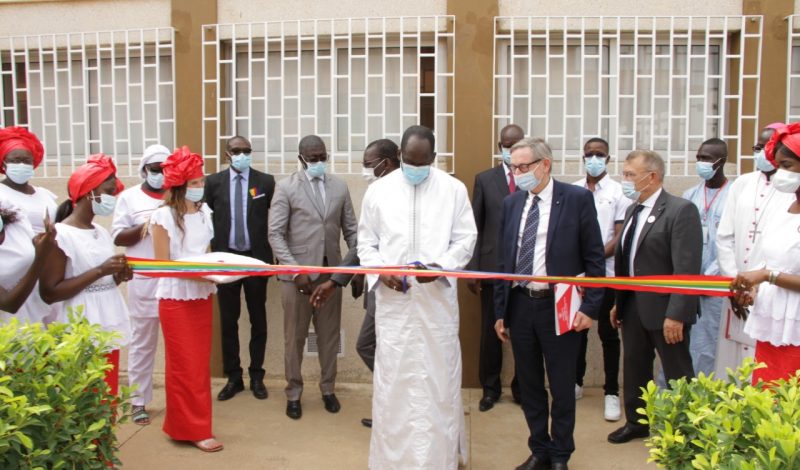 To improve its reception capacity, the Order of Malta's Hospital Centre (CHOM) in Dakar, Senegal, inaugurated its new "Jean Alfred Diallo" wing in early December.
The opening ceremony was attended by the Senegalese Minister of Health and Social Action, Abdoulaye Diouf Sarr, the French Ambassador Guillaume Brault, the Apostolic Nuncio Monsignor Michael W. Banach and the President of Ordre de Malte France, Jean-Baptiste Favatier.
This new wing will improve services for the disabled by facilitating access to medical diagnostic and functional rehabilitation departments. Starting from this year, some thousand patients a year will be able to benefit from physiotherapy and, thanks to the extension and accessibility of the new area, 12,000 more radiological investigations can be carried out. The physiotherapy and radiology services of the hospital have practically doubled over the last ten years.
During the Covid-19 pandemic, the hospital offered its services to the local government and was integrated into the national health system. During the first wave, it treated and healed 104 Covid-19 patients with none of the health workers being infected. The hospital's medical staff have managed this health crisis without neglecting the treatment of leprosy patients and related complications. There is currently a curfew from 9 p.m. to 5 a.m. in Dakar due to the increase in infections, but the hospital continues to operate in compliance with all Covid-19 health measures and restrictions.
CHOM, a centre specialized in the treatment of Hansen's disease (leprosy), was built in 1967 and is run by Ordre de Malte France. It is a pole of excellence throughout West Africa and an important centre for health training. In 2011 it was completely modernized to offer essentially two types of service: direct fight against leprosy and its medical and surgical management, in particular for prostheses and limb surgery