Cardinal Silvano Maria Tomasi is Bailiff Grand Cross of Honour and Devotion
02/02/2021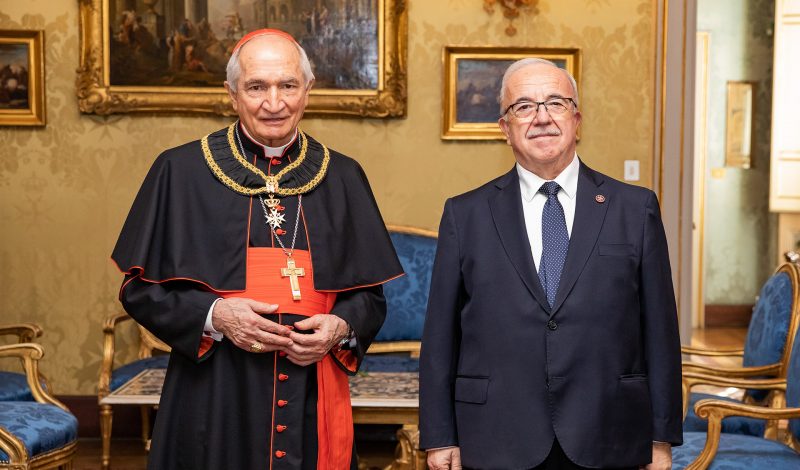 "The Order is like an ancient plant that puts out new shoots"
Today the Lieutenant of the Grand Master Fra' Marco Luzzago conferred the insignia of Bailiff Grand Gross of Honour and Devotion on Cardinal Silvano Maria Tomasi C.S., the Pope's Special Delegate to the Order of Malta.
The ceremony took place in the Magistral Palace, following current health and safety protocols.
The conferral speech recalled the cardinal's long mission, marked by special consideration for the most disadvantaged and in particular migrants. Apostolic Nuncio to Ethiopia, Eritrea and Djibouti, then Observer at the African Union, Cardinal Tomasi was the Holy See's Permanent Observer at the United Nations in Geneva and at the World Trade Organisation (WTO). More recently he was a member of the Dicastery for Promoting Integral Human Development before Pope Francis appointed him special delegate to the Order of Malta on 1 November last. Cardinal Tomasi has been the Order of Malta's chaplain since 2007.
In thanking the Lieutenant of the Grand Master and the Sovereign Council for the "gesture of esteem, but even more of affection", Cardinal Tomasi recalled how "the Order of Malta's roots reach far back in history, but the mission and commitment of its members continue to reinvigorate its path. I was personally able to observe many examples of this service in the field and the promotion of practical dialogue among the different religious confessions. The Order is like an ancient plant that puts out new shoots. The task that Holy Father Francis has given me is to help the Order to strengthen itself, to strengthen its unity, to walk along the guiding line of a glorious past and at the same time assess how best to respond to the social and religious sensibilities of the world today. I am confident and optimistic," the Cardinal concluded, "that we can and must look ahead and build an exemplary service of witness that continues to animate the Order's motto of Tuitio Fidei et Obsequium Pauperum. Let us walk along this road."
Also present at the ceremony were the Grand Commander, Fra' Ruy Gonçalo do Valle Peixoto de Villas-Boas, the members of the Sovereign Council and the Order's prelate, Msgr. Jean Laffitte.