Order of Malta donates medicines to 12 health facilities in Mali
15/02/2021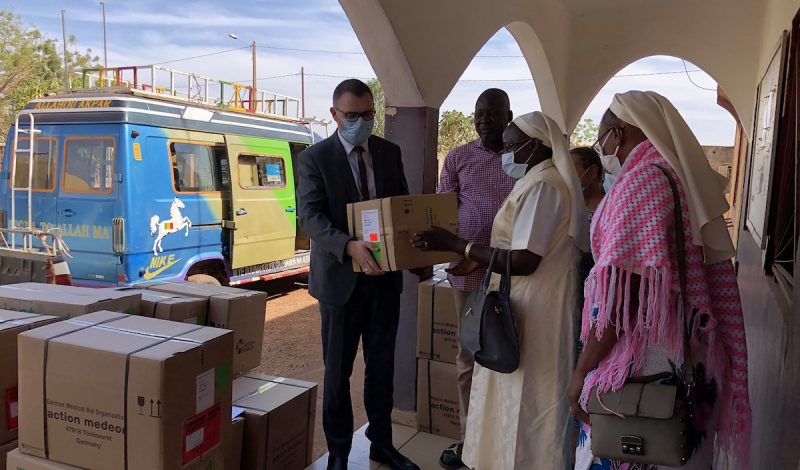 To guarantee assistance to the most vulnerable groups in Mali, the Order of Malta has donated medicines worth 20 million CFA francs (over 30,000 euro) to 12 health facilities. Sebastien Philippe, chargé d'affairs of the Order of Malta's embassy in Mali, personally consigned the medical supplies to the Ambulance Drivers and Paramedics Training Centre in the University of Bamako, the country's capital.
"I am very pleased to receive this donation from the Order of Malta. These medicines will above all help those patients lacking the means to obtain them. The Order of Malta has been supporting us for over 10 years and is also responsible for the medical staff's salaries," explained Sister Christine Coulibaly, head of the Religious Health Centre in Faladié, Bamako, after receiving the medicines.
"Because of the pandemic we weren't expecting to receive anything," said a very happy Sister Rosalie Koné, head of the Goualala Centre in southern Mali, "this donation will be greatly appreciated, especially on the World Day of the Sick when we distribute medicines free of charge to those most in need."
Sébastien Philippe stressed the role the Order of Malta has played in recent years, in particular with the inauguration of the Training Centre for Ambulance Drivers and Paramedics in 2006. To help cope with the Covid-19 emergency, an ambulance and medical staff were offered to the public health service for the Bamako hospital.
The Order of Malta, which established diplomatic relations with Mali in 1986, has signed several humanitarian and social-health cooperation agreements with this West African country which has almost 20 million inhabitants.