Statement of the Grand Chancellor at the UN Human Rights Council
23/02/2021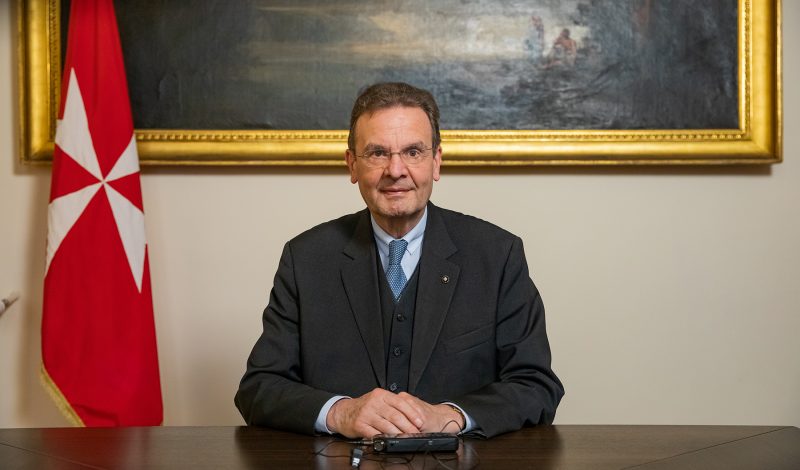 Human dignity at the centre of our action
The Grand Chancellor of the Sovereign Order of Malta, Albrecht Boeselager, addressed the 46th session of the United Nations Human Right Council, which opened in Geneva on 22 February. In expressing his deep appreciation for the Council's efforts in protecting human dignity, Albrecht Boeselager stressed the multiple challenges humanitarian actors are facing in the wake of the Covid emergency. "The Covid-19 pandemic, with its devastating effects on the health and economy of many nations, is added to global tensions and conflicts, the growing problems of famine, environment degradation, the issue of refugees and those fleeing war, terrorism and hunger and the many forms of violence that humiliate and offend human dignity". To this end, Boeselager stated that: "a rapid and widespread global distribution of the vaccines is not only an ethical imperative but also a scientific and clinical imperative as it is the best way to stop the pandemic".
The Grand Chancellor expressed his deep apprehension for the ongoing violation of human rights in many parts of the world, from the Horn of Africa to the Caucasus region, and in war-torn Syria: "Protecting the rights of minorities – often subject to discrimination and persecution – remains an imperative at a time when the logic of power, nationalism and populism is growing at the expense of the logic of dialogue" he said, also referring to the "migrant emergency in South East Europe and to the shameful mistreatment of migrants in deplorable run-down camps in order to discourage the arrival of other migrants".
In illustrating the Order of Malta's efforts to assist refugees and migrants during their transit, Boeselager stressed the need to work on transnational approaches based on shared values. In this framework, the work of faith-based organizations can prove being particularly effective: "In massive violations of human rights, the most reliable first responders for local communities are very often the faith-based organizations. The Order of Malta – which has a long experience in interventions in difficult areas affected by ethnic or religious hostilities – calls for a closer inter-religious dialogue as fundamental in helping the victims in these situations".
The Order of Malta has drafted the Compact "Religions in Action", based on the shared key principles of the monotheist religions, drawn up with the contribution of a selected group of religious experts, Christians and Muslims. The document contains guidelines for the role religious communities and religious institutions can play for the respect of human rights and to help resolve crisis situations and mitigate their effect on the communities involved.