Bulgarian Orthodox Church Metropolitan of Central and Western Europe received in Magistral Palace
17/03/2021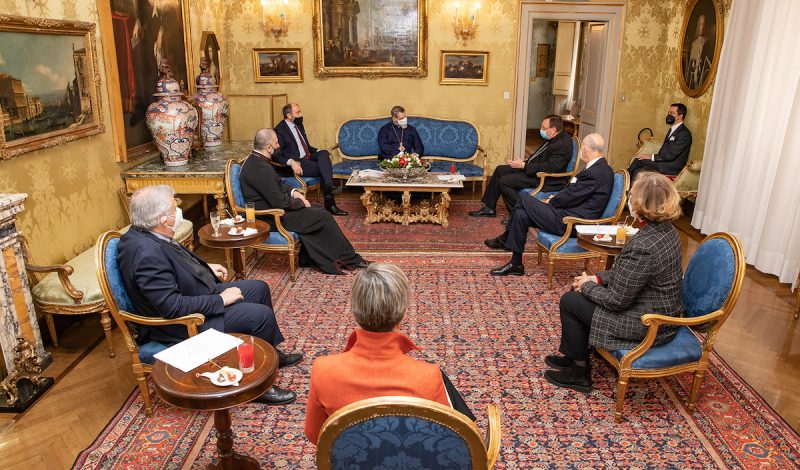 Today, Bishop Antonii, Metropolitan of Central and Western Europe of the Bulgarian Orthodox Church, made a courtesy visit to the Magistral Palace, received by Monsignor Jean Laffitte, Prelate of the Order of Malta, and by Ambassador Stefano Ronca, the Grand Magistry's Secretary General of Foreign Affairs.
The official visit of Grand Master Fra' Giacomo Dalla Torre to Bulgaria in December 2019 and his meeting with the Bulgarian Orthodox Patriarch, Neofita, in which Antonii was also present, was evoked. The metropolitan expressed his appreciation for the excellent relations with the Order's embassy in Sofia, established in 1994, as well as the Order of Malta's humanitarian work in Bulgaria, especially during the Covid-19 pandemic.
The talks, in which the Bulgarian Ambassador to the Order of Malta, Bogdan Patashev, and the Order of Malta's Ambassador to Bulgaria, Höfter Zuccoli, also participated, dwelt on Pope Francis' commitment to inter-religious dialogue and ecumenism which, as Monsignor Laffitte pointed out, constitutes one of the Order of Malta's priorities.
The metropolitan is in Rome to present padre Ivanov, who will assist the Orthodox Bulgarian community in the capital.