Order of Malta's Mission to UN Geneva co-sponsors event on Fraternity, Multilateralism and Peace
19/04/2021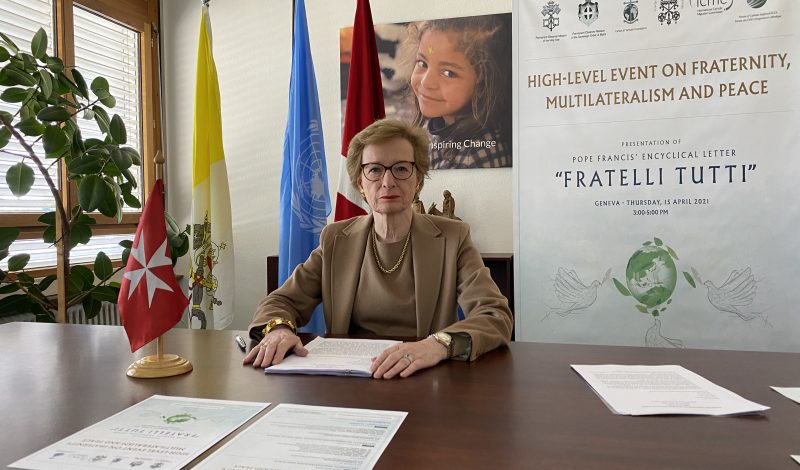 The event inspired by the encyclical "Fratelli Tutti"
As the Covid-19 pandemic continues to impact the international community and inequalities and divisions become more and more visible, to the detriment of the most vulnerable, the economic and social system of the States is called into question. In this alarming context the Holy See and the Sovereign Order of Malta Permanent Missions to the United Nations in Geneva, organized a high-level virtual event called "Fraternity, multilateralism and peace" to present Pope Francis' encyclical "Fratelli Tutti" to the United Nations.
The online conference, which took place on Thursday 15 April, was divided into two 45-minute panels, each focusing on specific themes. The first session looked the concept of fraternity and peace at the multilateral level and was attended by Cardinal Secretary of State Pietro Parolin who was accompanied by senior UN leaders from UNHCR, ILO, WHO and the International Committee of the Red Cross.
The second session, which was moderated by the Sovereign Order of Malta's Ambassador to the United Nations in Geneva- Marie-Thérèse Pictet-Althann- focused on how interreligious dialogue can help promote a culture of dialogue, peace and social justice from the perspective of human fraternity.
The discussion was opened by Cardinal Miguel Ángel Ayuso Guixot, president of the Pontifical Council for Interreligious Dialogue, together with Prince El Hassan bin Talal. "Our intention is to examine the ideal of human fraternity through the lens of interreligious dialogue and social justice. In fact, the question arises in what way the three are interconnected and how they contribute to reinforcing the message of the Encyclical Letter "Fratelli tutti". Interreligious dialogue entails the understanding of one's own belief, identity and shared values so as to ensure that a fruitful dialogue can translate into concrete results that benefit social justice" explained the Order of Malta Ambassador Pictet-Althann.