Official Visit of President of Latvia
12/05/2021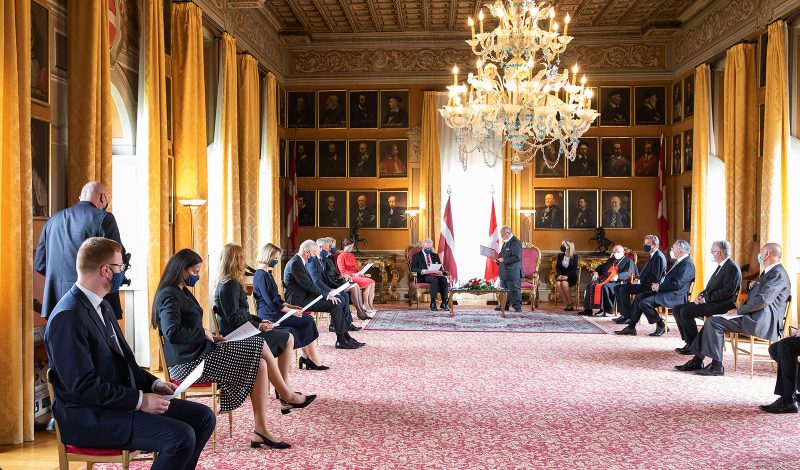 The President of the Republic of Latvia, Egils Levits, was received by the Lieutenant of the Grand Master Fra' Marco Luzzago on 11 May.
The meeting, which confirmed the excellent relations between Latvia and the Sovereign Order of Malta took place in the Order of Malta's Magistral Villa in Rome.
The official meeting was held in the Chapter House, attended by the two delegations and by Cardinal Silvano Maria Tomasi, the Pope's Special Delegate to the Order of Malta. A declaration of intent was signed, committing the parties to further develop cooperation in the humanitarian, social, educational and cultural fields, as well as to promote their postal-service partnership. The signatories were Jānis Bordāns, Deputy Prime Minister and Minister of Justice of the Republic of Latvia, and Grand Chancellor Albrecht Boeselager.
'It is with great pleasure,' said Fra' Marco Luzzago, 'that I receive your most welcome visit today, confirming the excellent bond of friendship and cooperation between the Order of Malta and Latvia, formalised in diplomatic relations in 1995. I am confident that today's signing of the declaration of intent will help to further develop them. I also hope that the Order of Malta will soon be represented in Latvia by its own relief organisation. This will enable new humanitarian assistance projects to be achieved with the valid support of our Embassy.'
In his speech President Levits, accompanied by his wife, expressed his 'profound gratitude for the Sovereign Order of Malta's mission and for your assistance to the most vulnerable people in Latvia during the first years of our independence, with all the social and political difficulties. Today we have spoken a great deal about multilateralism, human rights, human dignity and solidarity. We have discussed the digital divide as the world recovers from the effects of the pandemic. At European and bilateral level, we can contribute to inclusive and sustainable policies in international organisations. Our discussions today on potential common objectives, together with the signing of the declaration of intent, pave the way for closer relations between us,' he concluded.
The President's visit started with a meeting between the two delegations. Grand Chancellor Albrecht Boeselager explained the Order of Malta's main activities at diplomatic, medical and humanitarian levels.
After the meeting, luncheon was offered in honour of the President of the Republic of Latvia in the gardens of the Magistral Villa.