The Lieutenant of the Grand Master at the celebrations for Blessed Gerard
09/09/2021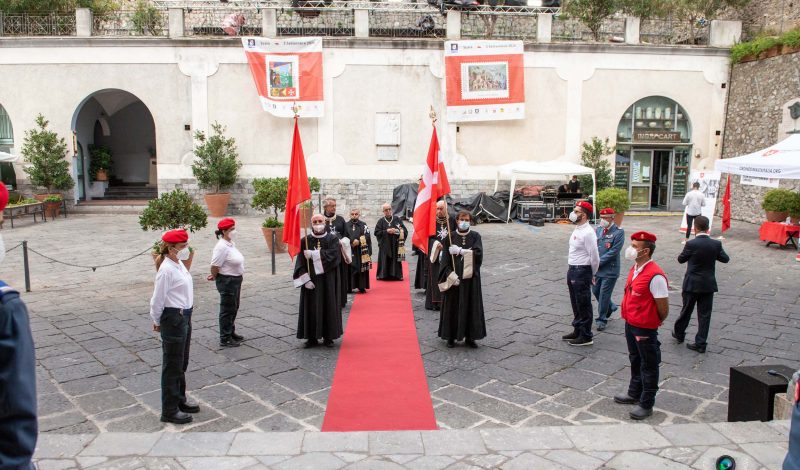 Mass in Scala presided over by Cardinal Silvano Maria Tomasi
In the oldest town on the Amalfi coast – Scala – the celebrations for the ninth centenary of the death of Blessed Gerard, founder and first Grand Master of the Order of Malta, came to an end.
On 4 September, Fra' Marco Luzzago, Lieutenant of the Grand Master of the Sovereign Order of Malta, participated in a series of religious, institutional and cultural events.
In Scala Cathedral, Cardinal Silvano Maria Tomasi, special delegate of the Holy Father for the Sovereign Order of Malta, presided over the solemn mass. During his homily, the Cardinal announced that he will ask Pope Francis 'to consider the canonisation of Blessed Gerard'. It would be nice', said Cardinal Tomasi, 'that Pope Francis, who has already made saints by equivalence, that is, without having to wait for a miracle but basing himself on popular faith, could do the same for Blessed Gerard'.
Addressing those present after the commemoration in the Town Hall Square, Fra' Marco Luzzago said: 'It is a joy for me to be with you today in this beautiful city of Scala for the celebration of the 900th anniversary not of the death, but of the birth to eternal life of Blessed Gerard. He and his fellow adventurers came, like so many others, to the Holy Land. Perhaps they were already aware, or perhaps not, that Divine Providence had entrusted them with a mission and granted them a charism so great, so vital, so strong that it was destined to remain alive and active for a millennium, until today, as we trust it will remain for centuries to come.
The conversation entitled "Blessed Gerardo Sasso and St. Francis cross the Mediterranean" with the participation of the historian and medievalist Franco Cardini, the RAI journalist Donatella Bianchi, and Father Enzo Fortunato, editor-in-chief of the magazine "San Francesco" helped to understand the historical conditions that framed the birth of the Order of Malta and the first centuries of its activity.
Photo Credit: Leopoldo De Luise