Order of Malta organises conference "E-health: from current experiences to future opportunities"
02/11/2021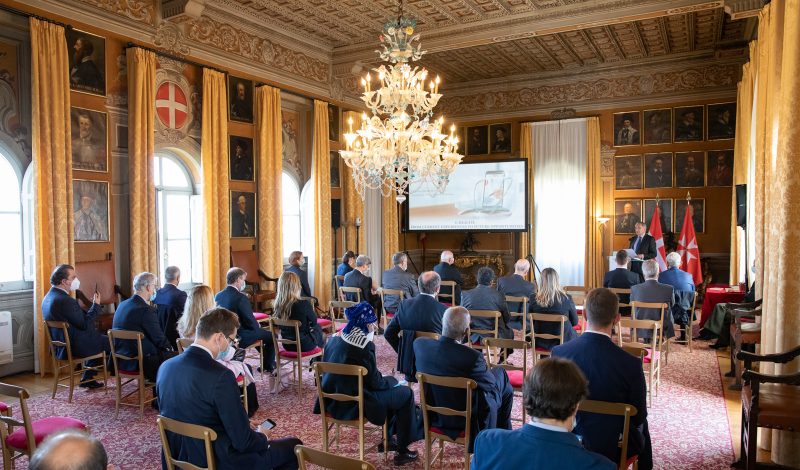 The digitalisation of medical assistance and the advancement in technology to support aid where at the centre of the conference organised by the Order of Malta today, at the Magistral Villa in Rome, titled "E-Health: from current experiences to future opportunities". Main themes of the conference – which was live streamed – were the huge transformation the medical field has undergone as a result of the Covid pandemic, which, as the Grand Hospitaller of the Order of Malta Dominique de La Rochefoucauld-Montbel, stated in his opening remarks has "sped up the use of modern and new technologies, and developed others". The Grand Hospitaller stressed the many multifaced fields E-health encompasses such as health-related internet information sites, automated online therapy, email consultations, online pharmacies, telehealth, home monitoring systems and virtual clinics.
Pierpaolo Sileri, Italian Undersecretary of Health, also contributed to the discussion stressing the relevance of data collection as an essential tool in guiding politicians and policy makers, especially in the wake of a pandemic. "The goal of leaving no one behind should be imperative for governments all over the world" Sileri stated. "This is why it is important to discuss how best to facilitate the widest possible dissemination of e-health, not just as isolated projects, but as initiatives framed on a shared and solid basis. International cooperation is essential to ensure equal access to health services for all at the global level".
A case study from Lebanon was illustrated by Malteser International, the Order of Malta's international relief agency, whereby – as explained by Janine Lietmayer (head of regional department Middle East for Mallteser International) the digitisation of the mobile medical units operating in the country has resulted in a more efficient, time saving and orderly data collection methodology which has in turn allowed an increase in the number of people assisted daily and an improvement of the doctor-patients' consultation quality.
Before the closing remarks, Monsignor Vincenzo Paglia, President of the Pontifical Academy for Life, shared his insight into the primacy of end-of-life specialised care recalling the tragedy of Covid victims dying in solitude and loneliness.
The conference was attended also remotely by the Minister of Health of the Republic of Benin Benjamin Hounkpatin. Other contributors were Elena Bottinelli, head of innovation and sustainability of the San Donato Group, Till Berger and Julia Opstals from the German technology company Allm EMEA, Mr Giovanni Ferigo INWIT CEO, and Edmund Le Brun from Elephant healthcare.