Talks in the United Arab Emirates
22/11/2021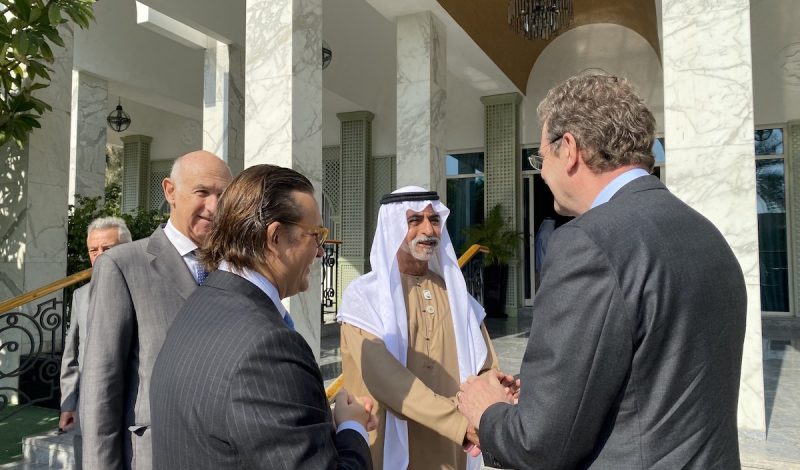 Grand Chancellor Albrecht Boeselager's three-day visit to the United Arab Emirates was marked by numerous meetings.
After speaking on 'Interfaith Dialogue and Humanitarian Diplomacy' for the Global Interfaith Summit, held in the Italian Pavilion at Expo 2020 in Dubai, the Grand Chancellor was received in Abu Dhabi by the United Arab Emirates Minister for Tolerance and Coexistence, Sheikh Nahayan Mabarak Al Nahayan. The meeting was an opportunity to thank the Minister for his invitation to attend the Summit and to reiterate the Order of Malta's willingness to deepen cooperation. Not only in the light of the increasing importance that religion is assuming for nations' foreign affairs and diplomacy, but above all for the document on 'human fraternity' signed in February 2019 in Abu Dhabi by Pope Francis and the Grand Imam of Al-DhabiAzhar, Ahmad Al-Tayyeb.
The talks with the Minister of Health and Prevention, Abdul Rahman Bin Mohammed Al Owais, covered current political and health issues as well as possible forms of collaboration for medical and humanitarian projects.
Discussions with Judge Mohamed Abdelsalam, Secretary General of the Higher Committee of Human Fraternity, focussed on the organization's projects to promote, with the Holy See, interfaith dialogue and knowledge of the other as well as the contents of the document signed by the Pope and the Grand Imam of Al-Azhar.
The Grand Chancellor also had a cordial conversation with Bishop Paul Hinder, Vicar Apostolic for Southern Arabia, one of the speakers at the Global Interfaith Summit. The differences between the countries under the prelate's jurisdiction – including Oman, Yemen, Qatar and the United Arab Emirates – were examined with reference to his 18 years of service in the region.
Finally, the Secretary General for Foreign Affairs Amb. Stefano Ronca, the Diplomatic Counsellor Amb. Giuseppe Morabito and Amb. Julien-Vincent Brunie, the Sovereign Order of Malta's Special Envoy for the Gulf countries, were received at the Foreign Ministry by the Director for Europe, Amb. Mohammed Al Shehi. Humanitarian diplomacy and development of relations were discussed.