The Sovereign Order of Malta is a Permanent Observer to the Inter-Parliamentary Union
29/11/2021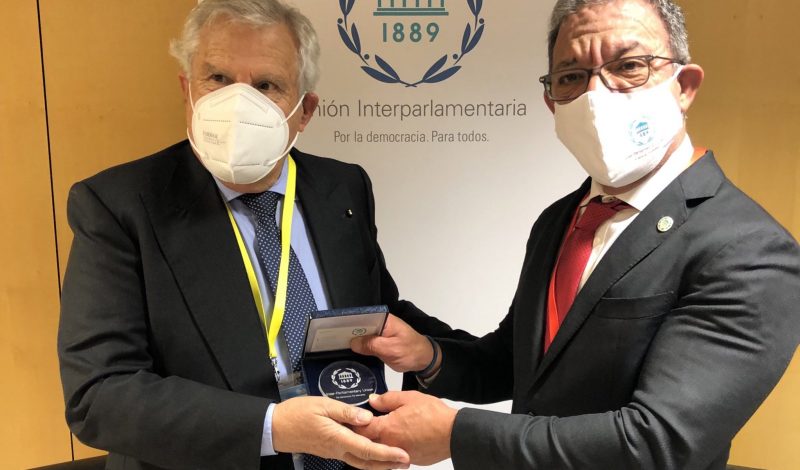 During the 143rd assembly of the institution that brings together the members of 179 national parliaments, held in Madrid from 26 to 30 November, the Sovereign Order of Malta was admitted as Permanent Observer to the Inter-Parliamentary Union (IPU).
Meeting the IPU President, Duarte Pacheco, the Sovereign Order of Malta's representative, Ambassador Daniele Verga, thanked the IPU for the Order's admission, recognising the organisation's role in advancing the processes of democratisation and establishing the rule of law. President Duarte Pacheco expressed his appreciation for the Sovereign Order of Malta's humanitarian action and examined possible forms of cooperation, particularly in the areas of inter-religious dialogue, the fight against human trafficking and new forms of slavery, refugees and migrants, and the culture of respect for personal dignity.
During the 143rd Assembly in Madrid, Ambassador Daniele Verga participated in the Workshop on Interfaith Dialogue on 28 November, and took the floor during the General Debate on Contemporary challenges to democracy: Overcoming division and building community
The IPU is the global organization of national parliaments. It was founded more than 130 years ago as the first multilateral political organization in the world, encouraging cooperation and dialogue between all nations. Today, the IPU comprises 179 national Member Parliaments and 13 regional parliamentary bodies. The Headquarters of the IPU  is based in Geneva where the Order's Permanent Mission to the UN has developed a fruitful cooperation. IPU promotes democracy and helps parliaments become stronger, younger, gender-balanced and more diverse. It also defends the human rights of parliamentarians through a dedicated committee made up of MPs from around the world. Twice a year, the IPU convenes over 1,500 parliamentary delegates and partners in a world assembly, bringing a parliamentary dimension to global governance, including the work of the United Nations and the implementation of the 2030 Agenda for Sustainable Development.
His Majesty Felipe VI, King of Spain, attended the inaugural ceremony of the 143rd IPU Assembly that took place in Madrid from 26 to 30 November 2021, hosted by the Parliament of Spain. Hundreds of IPU Members from all over the world meet in person in the world's largest gathering of parliamentarians. All IPU statutory bodies, including the Governing Council, Standing Committees, Committees on the Human Rights of Parliamentarians and on Middle East Questions, as well as the Forum of Women Parliamentarians and the Forum of Young MPs, convene during this Assembly. The General Debate provided a platform for delegates to deliberate, exchange views and seek to galvanize parliamentary action to uphold and promote democracy around the world.