Activity Report 2021: available online in English, Italian, French, Spanish and German
07/12/2021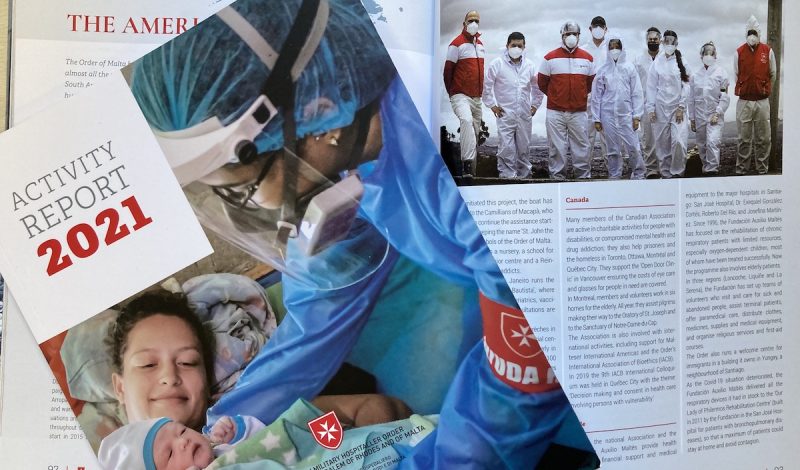 Starting from the cover picture, the Covid-19 pandemic has been the leitmotif of the Order of Malta's latest Activity Report 2019-2021, now available online in English, Italian, French, Spanish and German.
The publication details the numerous activities the Order of Malta's organizations set up in the various areas and latitudes to deal with the health and social consequences of the pandemic from the first dramatic moments. In close collaboration with national health authorities, the Order of Malta's professionals, volunteers and relief corps responded to the many needs that were gradually emerging: from testing to the production of masks and economic and social support, up to the vaccination campaign. Not only, during these last two years the Order of Malt's members, volunteers, diplomats and leaders have continued to follow a number of particularly important dossiers, ranging from migration and the environment to human trafficking.
Published every two years with a first edition in English, then also in Italian, French, Spanish and German, the Activity Report – soon be distributed in paper format – covers the most important moments and events in the life of the Order and provides a comprehensive overview of its many humanitarian, diplomatic and spiritual initiatives.
The publication opens with a message from the Lieutenant of the Grand Master, Fra' Marco Luzzago, followed by reflections on significant moments in the Order of Malta's life over the last two years, including the passing of the 80th Grand Master, Fra' Giacomo Dalla Torre del Tempio di Sanguinetto. There are also contributions from the Order's leaders, the Grand Commander, the Grand Chancellor, the Grand Hospitaller and the Prelate, as well as some of those managing the main activities worldwide.
The travel restrictions imposed by the pandemic crisis have forced us to rethink and modify online the numerous institutional and diplomatic activities, the meetings and visits of State and officials, as well as the organization and participation in conferences, congresses and forums during 2019-2021. Above all, pilgrimages had to give way to the Covid-19 pandemic, but this did not undermine the spirit at the basis of the Order of Malta's mission, which more than ever in this momentous period is reflected in its founding motto tuitio fidei et obsequium pauperum.
The last section describes the daily activities of thousands of members, volunteers and professionals in each country. With some 120 pages rich with information, the Activity Report is a useful instrument for learning more about the Order of Malta's life and activities and for understanding its Christian spirit that finds expression in all corners of the globe, from Western metropolises to isolated communities in the poorest countries.