Alarming situation in Madagascar, between famine and health emergency
20/12/2021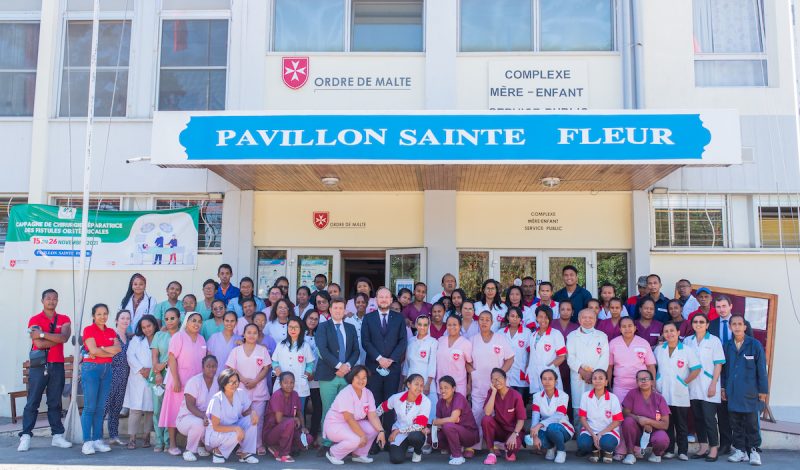 The president of Ordre de Malte France inaugurates an extension of the neonatology department of the Pavillon Sainte-Fleur
Madagascar is experiencing an unprecedented social, economic and health crisis. The price increase in basic necessities is close to 10%, unemployment has exploded and water and electricity is lacking in many areas, the capital included. In the summer of 2021 a severe drought, also caused by climate change, affected the southern regions of the Indian Ocean Island where today, according to some estimates, over a million people are suffering serious food shortages.
For this reason, Cédric Chalret du Rieu, the new Ordre de Malte France president, made his first international trip in early December to this region. "With extreme drought, barren land, rural banditry and the health crisis, the situation in Madagascar is alarming," said Cédric Chalret du Rieu, "however thanks to the generosity of donors and the work of our people on site, Ordre de Malte France is helping to combat famine and restore hope to the Malagasy population."
Ordre de Malte France has been present in Madagascar for some 20 years. In October it launched a crowdfunding campaign that raised €40,000, enough to acquire 88 tons of rice for feeding 16,000 people for two months. The food emergency, a direct consequence of the worst drought that the country has suffered in 40 years, is added to the other crises, not least the Covid-19 pandemic. Out of 28 million inhabitants, at least 1.4 million suffer from acute malnutrition, including 500,000 children under 5.
The trip to Madagascar was also an opportunity to inaugurate the extension of the neonatology department in the "Maternité du Pavillon Sainte-Fleur". Ordre de Malte France has been managing this pavilion in the University Hospital Centre of Antananarivo, the capital, since its inauguration in 1999. The Order of Malta's ambassador, Véronique de la Rochefoucauld, was also present, along with other ambassadors and representatives of various United Nations agencies. The new neonatology premises were blessed by Monsignor Paolo Gualtieri, apostolic nuncio to Madagascar.
Specialized in monitoring high-risk pregnancies, 3,000 children are born every year in the Pavillon Sainte-Fleur and some 200 women a year give birth completely free of charge. Faced with growing needs – pregnancies at risk have increased by 15% also due to the pandemic – the neonatal department has doubled its capacity with 15 incubators and 9 cribs. It can now accommodate up to 400 babies in antenatal care, increasing its capacity by almost a third. The work was financed by a €60,000 donation from the Global Fund for Forgotten People which has also donated €70,000 for medical equipment.
Equipment for carrying out Covid-19 molecular tests has also been recently delivered to the Ministry of Health of Madagascar, donated by the Order of Malta's embassy in the Seychelles under the cooperation of the Indian Ocean Commission (IOC). A ceremony to thank the donors, who for some six months have been dedicated to overcoming not a few bureaucratic obstacles, will be organized in January.
Photo-Credit: Rija RAMAMIARIJERY