Order of Malta's embassy in Mauritania organises mission in support new First Aid Service
07/01/2022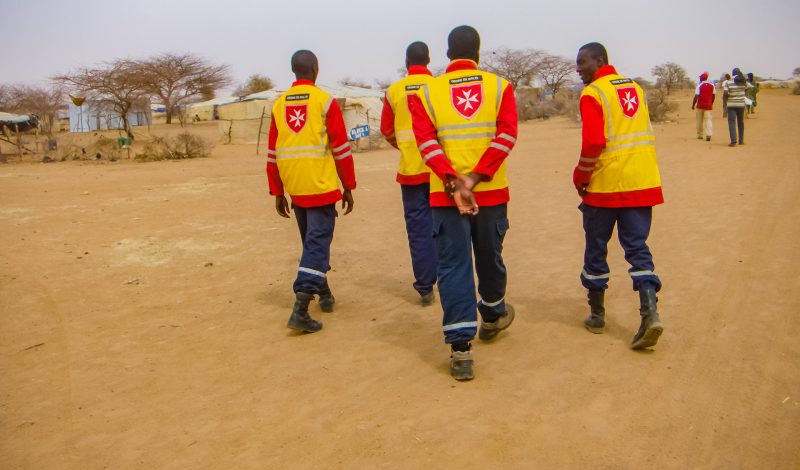 In partnership with the Mauritanian Ministry of Health, the Embassy of the Order of Malta in Mauritania organised a mission to Nouakchott from 5 to 13 December, in the framework of the establishment of a future Mauritanian first Aid Service and to train first aid and ambulance trainers.
The mission – which followed a previous one in early 2021 – was led by the Ambassador of the Sovereign Order of Malta to Mauritania Karl de Mandat-Grancey, who was accompanied by Francis Chaise, medical doctor of Ordre de Malte France, and by the new Head of First Aid Training of Ordre de Malte France, Laurent Audoin.
Following high level meetings including with the Minister of Health, Sidi Ould Zahaf, the Order of Malta signed a new cooperation convention in the framework of public health. With this Convention, the Ministry of Health renews the previous agreement within the priority programme of road safety, namely the training of trainers for ambulance drivers and first aiders.
During the mission, consultations and surgical interventions were also planned for the most destitute leprosy patients and those suffering from severe burns. Doctor Francis Chaise was able to consult 48 patients (30 with serious burns, 10 with traumatic injuries) and 8 people affected with Hansen disease at the national hospital. He was also able to operate on 10 patients with serious thermal burns and important leprosy infections.
A new mission in 2022 is already on the agenda for Spring 2022.