Cooperation Agreement between the Kenyan Government and the Order of Malta
Rome, 10/10/2011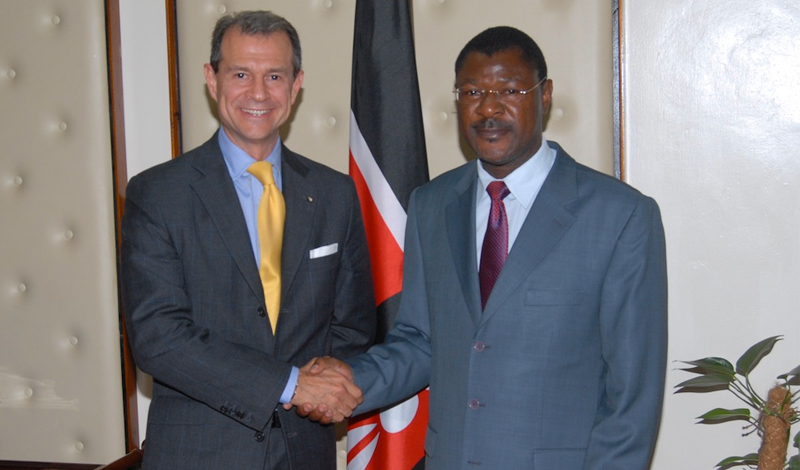 Kenya has a strategic role in the Order of Malta's humanitarian initiatives in Africa.  It is from Kenya that the Order is assisting the population of the Horn of Africa, suffering from one of the worst droughts and famines of the last ten years. The Order of Malta's international relief agency – Malteser International – has its regional offices in the Kenyan capital.  It is from here that all the humanitarian actions developed in other countries of the region, including South Sudan, are coordinated.
Hence the great emphasis on the cooperation agreement between the Republic of Kenya and the Order of Malta on 14 September last in Nairobi, signed by the Hon. Mosè Wetang'ula, Foreign Minister of Kenya and by Ambassador Gianfranco Cicogna Mozzoni for the Order of Malta.
To assist and develop cooperation in the healthcare, social and humanitarian field, the agreement also extends customs and fiscal exemptions for importing goods and equipment, already granted to the embassy, to the Order of Malta's relief corps. The accord also facilitates freedom of movement inside the country and the issue of entry visas, transit visas and residence permits for all the Order of Malta's personnel.  
"This new agreement  is very important for developing relations between the Order of Malta and the Republic of Kenya.  It creates a solid base on which to extend further our humanitarian programmes in this part of the African continent,"  the Order of Malta's ambassador in Kenya, Gianfranco Cicogna Mozzoni, stated.