Fighting tuberculosis, HIV, malaria in Africa
Cologne, 30/05/2007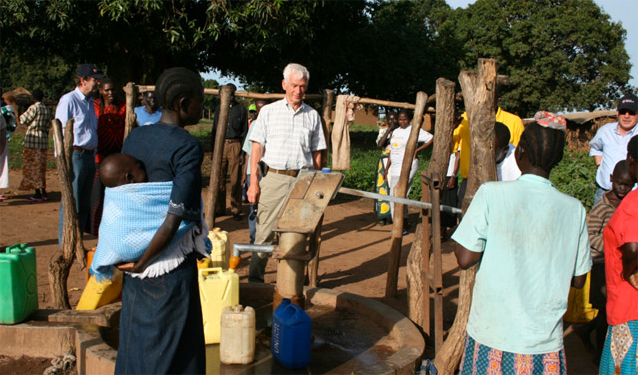 – Order experts in fact finding visit to Kenya, Sudan and Democratic Republic of Congo.
– Kenyan Vice President praises Order of Malta support on the ground.
A team of Order representatives inspecting Malteser International projects in Kenya, Sudan, Uganda and Democratic Republic of Congo, was met by the Kenyan Vice President, Moody Awori, who expressed his country's gratitude 'for the commitment of the Order of Malta in Kenya and for your support in the struggle against tuberculosis, HIV/AIDS and malaria.'
He particularly noted Malteser International's work in the Remand Prison in Nairobi where the organisation runs a health centre for the prisoners and staff of the largest prison in Kenya. 'Thanks to the cooperation between our health authorities and Malteser International, we can now provide essential help for our prisoners,' he said.
Albrecht von Boeselager, Grand Hospitaller, replied on behalf of the Order, expressing his appreciation for the cooperation between the Order of Malta, Malteser International and the Kenyan authorities, adding: 'It is very good to know that we have reliable partners here who share the burden of work with us. In the Nairobi prison many prisoners suffer from tuberculosis and over 50% are infected with HIV. Malteser International staff work with these patients, free of charge.'
In Kayole – in the eastern outskirts of Nairobi – the team inspected work carried out in the slums, where Malteser International's group, with its doctors, laboratory experts and counselors, concentrates especially on fighting against the spread of tuberculosis and HIV/AIDS. Team member Geoffrey Gamble observed: 'They do their very best under difficult conditions (without electricity and without any sanitary facilities). Some of them even work as volunteers spending their time to help others, coping with situations that will change their lives.'
The most dangerous region for malaria in the world
In Yei, Southern Sudan, the team visited the clinics and hospital Malteser International has established in the grounds of a Catholic church. Geoffrey Gamble describes what he found: 'a settlement where they treat the most fearsome of diseases: HIV/AIDS, leprosy, malaria, sleeping sickness, tuberculosis (TB) and cholera. This is the most dangerous region for malaria in the world. One in five children dies from this alone. Farming is almost non-existent because of the land mines left over from the war. What remains to these people is a natural dignity and a profound faith in God.'
Where more than 10.000 women are victims of sexual aggression
In the Democratic Republic of Congo the team analyzed the Order of Malta different projects such as Health Programme, Food Security, Medical and Psycho-Social Assistance for Victims of Sexual Aggression.
Already since 1996 Malteser International assists in the restless regions Ituri and South-Kivu around 300 health centres. Together with local health authorities it provide medical care for more than 2 million people, run vaccination campaigns and take care of HIV/AIDS infected men and women. In addition Malteser International provide psycho-social assistance to the numerous women and girls who were brutalized in the war.
During 2005 more then 10,000 mistreated girls and women looked for medical and psychological aid in the health centres supported by Malteser International. Concerning 2006 the amount of patients is even higher.
For more information: