Food crisis in west Africa: malteser international supplies 520 tons of cereal for Mali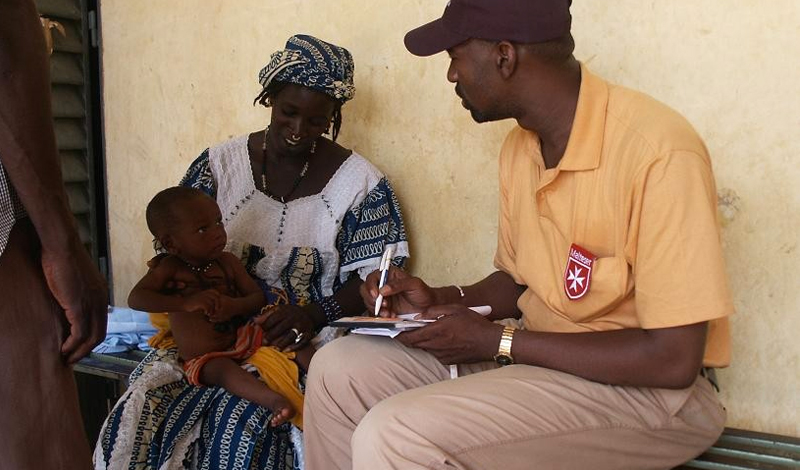 Malteser International supports the "National Security Stock" of the government of Mali with Euro 200,000 to restock 17 cereal banks with 520 tons of cereal for 60,000 people in the region Mopti, located 640 kilometres northeast of the Malian capital Bamako. Cereal banks offer not only immediate emergency relief but also represent a long-term relief for periods of severe food crisis.
Responding to crisis warnings the government of Mali has been distributing free cereal three times since October 2004. "The stocks are now empty and the government depends on international emergency relief", reports Sandrine Rosenberger of Malteser International from Bamako. The government wants to establish 178 cereal banks nationwide to support especially the rural areas with food and to balance the continuously rising prices of cereal.
"If Mali doesn't receive immediate sufficient aid many people, in particular children, will die", emphasizes Rosenberger. "Farmers and nomads, who lost their base of existence caused by last year's extreme drought and locust plague, live in extreme poverty and malnutrition. Mothers collect leaves and grass to save their children from starvation."
Not only in Mali, but also in Niger Malteser International supports the cereal banks. Malteser International enables the distribution of millet and corn in the province Quallam north of the capital Niamey for approximately 10,000 people with Euro 10,000. Long-term relief actions in the medical sector are planned. Due to the malnutrition people are weakened and hardly show immune defence: already a simple diarrhoea can lead to death.
To enable immediate relief service to aid the people in Mali and Niger Malteser International asks you for your help.
Please donate to:
Name of bank: Bank für Sozialwirtschaft
Sort Code: 370 205 00
Account N°: 10 20 30
IBAN: DE 49 3702 0500 0001 0258 01
BIC: BFSWDE31XXX
Reference: 'Food Crisis West Africa'
Malteser International is the Order of Malta's international relief organisation for medical and humanitarian aid. Its worldwide operations include emergency medical interventions, long term reconstruction and development programmes. Malteser International currently runs missions in 35 countries. It has its headquarters in Cologne, Germany.
For more information: