Lebanon: the Order of Malta distribute six tons of medicines
Rome, 31/08/2006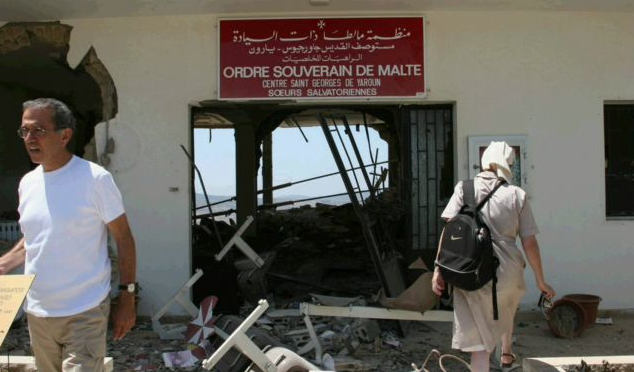 Ceasefire. With the clearing of rubble from the main roads in the south, the Lebanese Association of the Order of Malta has been able to deliver a full load of medicines to Bekaa valley, an area severely attacked during the war. Supplies are urgently needed: at the centre in Barka doctors had to ration medicines in the last days of the fighting. Organised by the Order's French Association, Malte Liban and Ordre de Malte France, the delivery – six tons of medicines – is currently being distributed. Meanwhile, the German Association continues its financial support of the Barka centre, which it has done for a number of years, and the Order's health care centre in the heavily damaged village of Siddikine near Cana has at last been able to restart its work. The Lebanese Association runs the centre in this mixed Muslim-Christian area in cooperation with the Shiite 'Imam Sadr Foundation' and employs doctors and nurses of all the four major religious groups.
Order of Malta team on the ground
Last week an Order of Malta team of specialists, from a number of National Associations under the umbrella of Malteser International, the Order's worldwide relief service, visited destroyed towns and villages. Six Lebanese Association health care centres were visited in south Lebanon. Ingo Radtke, Secretary General of Malteser International reports that it is 'an unbelievable scene of destruction', adding: 'The chronically ill urgently need their regular medical treatments and the population is also experiencing traumatic responses. The local children panic when they hear the sound of an aeroplane.'
The specialist team looked over the totally destroyed health care centre in Yarun on the Israeli border. It had suffered many hits during severe fighting. 'We will have to tear down the back part of the building, as it is in a dangerous condition,' The President of the Lebanese Association, Marwan Senaoui explains. 'And the reconstruction of the front will take at least four months and require a strong investment.' Over the last traumatic month, the head of Yarun's health care centre, Dr. Raed el-Alam, with just one other medic, was able to provide medical treatment for the population trapped in the village. 'The situation was appalling,' el-Alam reports. 'For ten days there was no clean drinking water, no bread, no milk for the babies and not enough medicines.'
Rehabilitation work has started in the south, where the Lebanese Association is setting up mobile medical teams to provide medical assistance in the damaged villages which currently have nothing.