Meeting with Slovenian Deputy Prime Minister, Miro Cerar
29/11/2018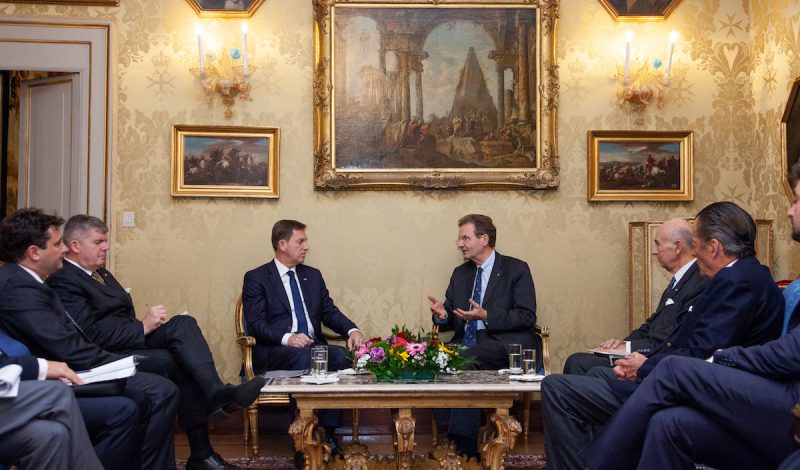 On 28th November the Slovenian Deputy Prime Minister and Minister of Foreign Affairs, Miro Cerar, was received by the Sovereign Order of Malta's Grand Chancellor Albrecht Boeselager in the Magistral Palace.
During the talks the situation in the Balkans was analysed, with particular emphasis on the challenges posed by migration flows and the capacities of the individual countries to set up an effective integration. There was broad consensus on the importance of the global compact for migration – the first inter-governmentally negotiated agreement that, under the auspices of the United Nations, provides global answers to the migration issue – to be approved in Marrakech, Morocco, on 10th and 11th December next. Both Slovenia and the Sovereign Order of Malta will be present at the summit.
When discussing the Order of Malta's activities in Slovenia, Minister Cerar expressed his admiration for the work carried out by its association and volunteer corps in his country. A work fostered by "a great generosity and a sense of solidarity with the Slovenian people" the minister said. A cooperation agreement is currently being negotiated to facilitate and support the Order of Malta's health and social programmes in Slovenia. Both parties agreed to speed up the process for drafting the text.
Also participating in the meeting were Amb. Stefano Ronca, Secretary General for Foreign Affairs and Amb. Mariano Hugo Windisch-Graetz, the Order of Malta's ambassador in Slovenia.