Preparations in full swing for the international pilgrimage with the sick to Lourdes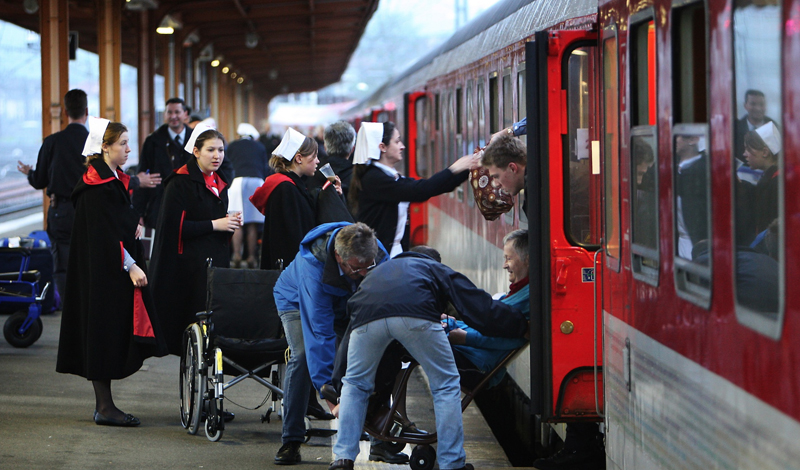 Exactly one month to go and the organization of the Order of Malta's 55th International pilgrimage to Lourdes from 3 to 7 May is a hive of activity. From Bolivia to Singapore, from Lebanon to Australia, thousands of the Order of Malta's members and volunteers are preparing for the poignant spiritual journey with their sick to the Marian Shrine at the foot of the Pyrenees.
Two months after registrations closed, there were 1500 Italians, of which 400 are the sick.  1200 French have enrolled with 150 sick and 1000 pilgrims are expected from the United States with 150 patients. The numbers are therefore consistent with those of past years, despite the fact that the economic depression has caused a slight drop in pilgrims to Lourdes.
From luggage labels to planning diets for the sick and their accommodation in the two Accueils, to the management of all aspects of the numerous celebrations. This is all entrusted to the indefatigable Office for the Coordination of the Order of Malta Pilgrimages in the Grand Magistry, to which the Grand Priories and National Associations refer,  that takes care of every detail to enable stretcher-bearers, sisters, the sick and their attendants to enjoy the intense spiritual experience in total tranquillity.
"We're still calculating the registrations for this year, but we have definitely more than six thousand," explains Serena Zapponi, Secretary General of the Order's Pilgrimages, peering out from the heaps of documents surrounding her.  This will be her 27th pilgrimage to Lourdes.
"Even before 1958 some National Associations, and especially the Order of Malta's British Association and French Association, had organized pilgrimages to Lourdes. In 1958, on the hundredth anniversary of the apparitions, the Order's first International Pilgrimage was organised. Since then many things have changed. The few dozen people who arrived in Lourdes on a single train have now grown to over six thousand and are coming from all over the world".  There are 39 nations represented this year.
But not only the numbers have changed, the atmosphere felt during those days is also very different, as Serena Zapponi tells us: "Whereas before the volunteer mainly offered his or her assistance for transporting the sick person, today the pilgrimage is characterised by the special relationship that is created between attendant and patient. A relationship of trust and friendship that exists for the entire time of the pilgrimage and that often continues afterwards. For us it is a pilgrimage that carries on into everyday life".