State Visit of the Romanian President Traian Basescu to the Order of Malta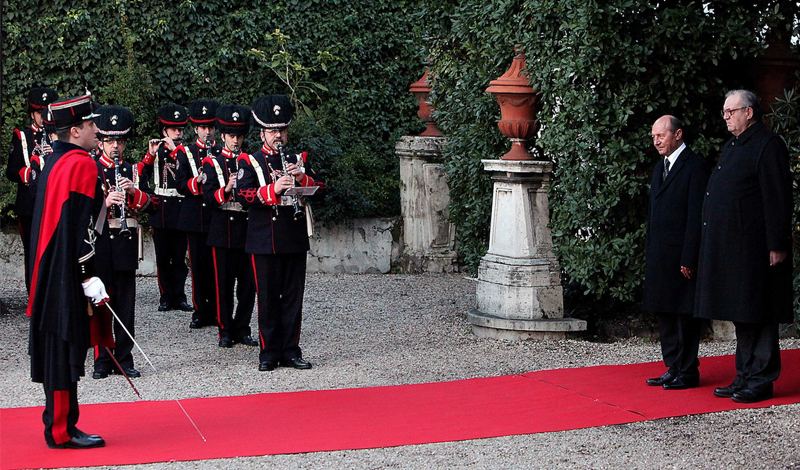 On 15 February the President of Romania Traian Basescu was received by the Grand Master of the Sovereign Order of Malta Fra' Matthew Festing at the Magistral Villa in Rome. The occasion for the State Visit was to celebrate the eighty years of diplomatic relations between Romania and the Order. After military honours the Romanian President and the Grand Master held private talks. In his official speech in front of the two delegations and numerous guests inside the church of Our Lady on the Aventine, the Romanian president expressed his gratitude for having been received on 15 February 2013,  "precisely on the day in which the Order of Malta celebrates the 900th anniversary of Pope Paschal II's official recognition…Nine centuries of an impressive history which reflect the devotion of the Order's members to the values of the Christian faith and to serving those in need".
Fra' Matthew Festing pointed out the strong ties with the Bucharest government: "Today's visit is yet another proof of the excellent relations existing between Romania and the Order of Malta; links which date back to 1247.  During the course of time, our relations progressively strengthened until we opened diplomatic relations in 1932," the Grand Master said.
An exhibition was organised in the church of Our Lady on the Aventine for the occasion. Documents, originals and copies, testifying to the establishment of diplomatic relations were shown to President Traian Basescu, accompanied by his wife Mrs Maria Basescu. In honour of the Romanian president's naval career, there were pictures and manuscripts on the Order of Malta's ships and naval tradition. The exhibition concluded with a collection of ancient and modern texts on Romania.
In honour of President Basescu, the First Lady and the Romanian delegation, the Grand Master offered a luncheon in the Magistral Villa to which over sixty guests were invited, as well as the Order of Malta's senior government officials.
The Order of Malta in Romania
During the period immediately after the fall of the iron curtain the Order of Malta created a volunteer corps, il Serviciul de Ajutor Maltez în România (SAMR), to help the Romanian population.  This corps now numbers 1,200 volunteers and 61 employees and is present in 26 different centres. Medical assistance, support for children and young people in difficulty, for the homeless and elderly, are some of the Order's main activities.  It also runs programmes for rescuing people after natural disasters, such as the snowstorms that overwhelmed Romania's south-eastern region last winter.