The Grand Master inaugurates a new soup kitchen in Madrid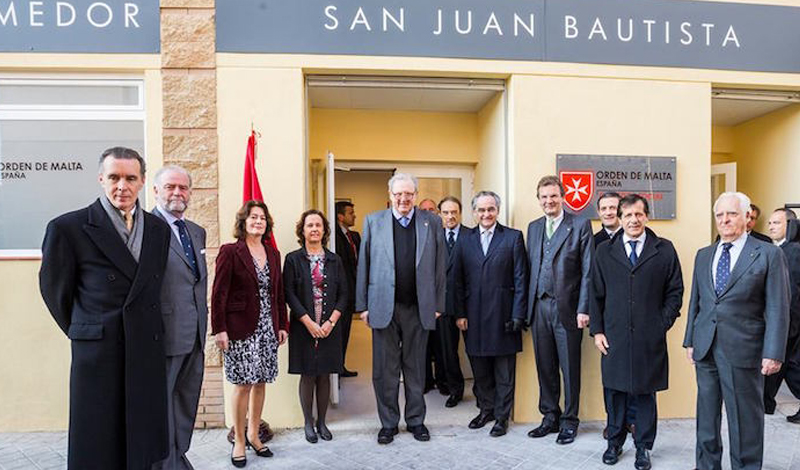 250 people fed every day
Fra' Matthew Festing inaugurated the new welfare initiative of the Order of Malta's Spanish Association on 10 December, during his official visit to Spain. In the presence of the Association's leadership, members and volunteers, the soup kitchen dedicated to St. John the Baptist was officially presented to the Grand Master. It will start operating at the beginning of January, distributing 250 meals a day to people in economic difficulty. The kitchen will be completely run by the Association's volunteers, who will also be responsible for procuring the food, mostly through donations.
The "La Caixa" Foundation and numerous private donations have contributed to constructing and equipping this new soup kitchen.
The Order of Malta in Spain
This new service brings the number of soup kitchens run by the Order of Malta in Spain to three – two in Madrid and the third in Seville. Overall they will deliver some 220,000 meals a year to people in difficulty.
For almost two years the Order of Malta has also been organizing the solidarity breakfast programme in Spain, following the example of the Ordre de Malte France's initiative, now running for several years. Sunday morning (when most of the soup kitchens are closed in Spain) the first meal of the day is offered to 200 0r so homeless people.
The Order also manages a warehouse in the capital Madrid that distributes hundreds of items of clothing and shoes to people at risk of social exclusion, helping to satisfy their most elementary needs.
Members and volunteers of the Order of Malta's Spanish association also cooperate with various institutions in programmes for assisting the disabled and elderly in numerous towns.