The Grand Master's Meetings and Visits in Honduras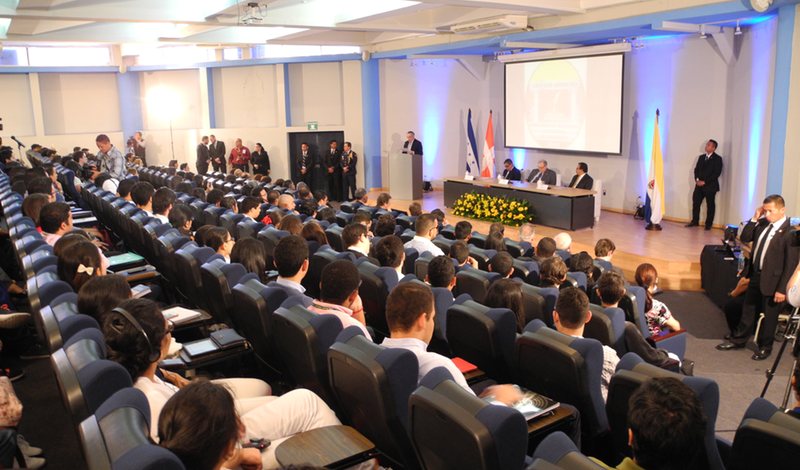 The National Autonomous University of Honduras has more than 80,000 students. The Grand Master was received in its Tegucigalpa headquarters by the Rector Julieta Castellanos and by the board of governors with whom he discussed the possibility of creating links, and especially to offer the students new opportunities for growth by serving the community. After this, in the auditorium of the Faculty of Chemistry and Pharmacy, Fra' Matthew Festing responded to the questions of numerous students. At the end of the encounter, the Mayor of Tegucigalpa, Nasry "Tito" Asfura, gave Fra' Matthew Festing a parchment accrediting him as an "illustrious guest of the capital".
In the outskirts of Tegucigalpa, the Grand Master then visited the new humanitarian aid distribution centre recently inaugurated by the Order of Malta's Honduran Association. Set up in cooperation with the Spanish Agency for International Cooperation and the Honduran Ministry of Agriculture, the structure operates as a centre for storing and redistributing the ample donations programme run by the Order of Malta's association in the country.
The visit to Villa de Las Niñas, a boarding school supported by the Order of Malta's Honduran Association, aroused strong emotions. Created and admirably run by the Hermanas de María – a congregation founded in 1964 in South Korea – the centre in the periphery of Tegucigalpa accommodates over 600 girls between 12 and 17 years from poor and very poor families. Fra' Matthew Festing was welcomed by a music and dance show and afterwards he visited the facility accompanied by the nuns.