The Lampedusa boat tragedy: Nonstop the work of the Italian Relief Corps of the Order of Malta
Rome, 04/10/2013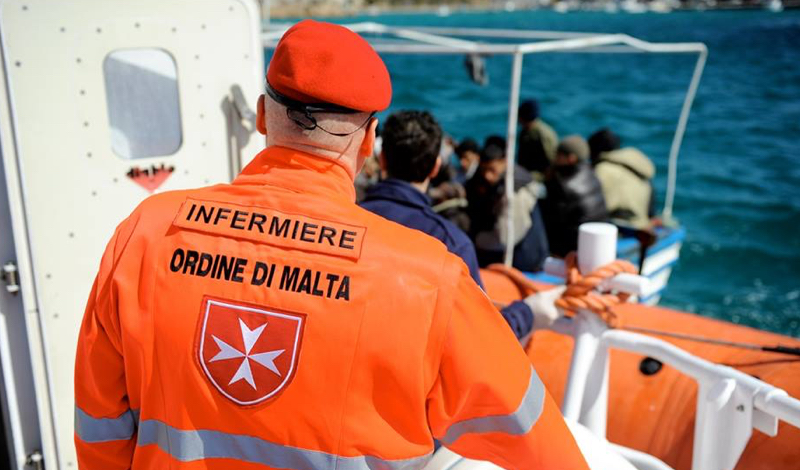 Hundreds of bodies rescued at sea after a new shipwreck

"It is a tragedy we've never seen before," says Emilio Schirru, a doctor with the Italian Relief Corps of the Order of Malta. The Corps were among the first to arrive at the scene after the shipwreck of a boat dangerously overloaded with nearly 500 immigrants, off Lampedusa, Sicily. His words describe more clearly than any photograph the latest tragedy of the boat people and the agony rescuers faced when they arrived at the site: "Hundreds of bodies floating in the water, among them children and pregnant women."
Once a tourist destination and an undisputed gem of the Mediterranean, Lampedusa is now transformed into an open air graveyard. The death toll continues to rise. Over a hundred bodies have been recovered so far, but many more are still unaccounted for. Probably another hundred are trapped beneath the wreck, which sank some 150 feet below the water line, after having caught fire yesterday at dawn. The boat was only half a mile from the island, the border between Europe and Africa.
Reportedly, immigrants had set fire to a blanket to attract the attention of passing ships or the Coastal Guard, only to have the fire spread to the rest of the boat – a fatal gesture that in a few seconds turned it into a ball of fire. Many jumped into the water to escape the flames, many could not swim.
This is the latest in a list of similar tragedies whose victims are desperate people fleeing from war and persecution, poverty and misery.
Mauro Casinghini, national director of the Italian Relief Corps of the Order of Malta (CISOM), is in Lampedusa overseeing the medical rescue operations. "This latest shipwreck is just one in a series of constant and complicated rescue operations of the Coast Guard's patrol boats and the Guardia di Finanza. We appeal to organisations, to the most important foundations and philanthropic institutions, to our citizens, to help us with urgently needed donations, so we can continue to support the sea rescue operations and for vital medical and psychological assistance.
Since 2008, the Italian Relief Corps of the Order of Malta (CISOM) has provided medical assistance to over 4,000 children, women and men who attempt to reach Europe through the Strait of Sicily. Many of the rescued women are pregnant.
MAKE YOUR DONATION TO:

Foundation CISOM – Italian Relief Corps of the Order of Malta
DeutscheBank Rome – Santi Apostoli
IBAN IT 31 A 03104 03214 000000821100
Mark your donation: "Operation Lampedusa"