The Order's Lithuanian relief service launches project for WW2 heroes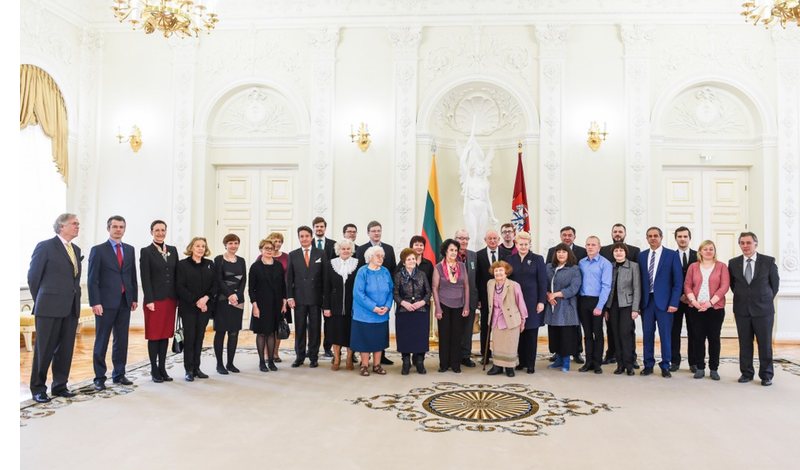 A new project in Lithuania, 'Courage among nations,' spotlights care for the elderly in Lithuania – a very special and courageous group who had rescued Jews in danger in their country during the Second World War.
The strong culture of the Lithuanian Jewish community was known as the 'Jerusalem of the North'. Jews during the war years were killed in all Nazi-occupied countries, including Lithuania. There were 250,000 at the start of the war. By its end there were but 5,000.
The chairman of the Lithuanian Jewish community, Faina Kukliansky, recounts that Jews consider these people to be heroes. They not only rescued their friends and neighbours, but even Jews they didn't know, at the same time saving the honour and dignity of the nation of Lithuania. 87 of these brave rescuers are still alive, but many live in poverty and suffer ill health.
To honour and support the 87, the Order of Malta's Ambassador to Lithuania, Christian von Bechtolsheim, initiated a fundraising project, with a concert at the end of last year in Munich, under the patronage of the President of Lithuania, Dalia Grybauskaite and President of the Federal Republic of Germany Joachim Gauck. It was conducted by renowned German conductor Enoch zu Guttenberg, and raised 125,000 euro in support of this touching cause.
Last week, the Order of Malta's Relief Organisation in Lithuania (Malteser Lithuania), personally presented the three-year project to President Grybauskaite. The meeting, which took place in the Presidential Palace, was attended by Order of Malta representatives, the German and Israeli ambassadors, leaders of the Lithuanian Jewish community and the Order of Malta Relief Organisation. Guests of honour were the 'Courage Among Nations' survivors, many of whom, during the warm and emotional meeting, shared their stories.
" 'Courage Among Nations' even in the darkest hours of our history witnessed humanity," said President Dalia Grybauskaite. "We will always be grateful for the heroism and generosity of our brave citizens. This project brings people and countries together, building bridges between the past and the future."
The project will be carried out together with the Lithuanian Jewish community. It will offer the recipients debit cards to buy medicines and food products and provide a fixed monthly sum for individual social needs. Secretary General of the Order of Malta's Relief Organisation, Eitvydas Bingelis, explains: "The funds may be used to pay heating bills or other urgent expenses, or to purchase household appliances or other items to make their lives easier. We are planning an exhibition about these dignified people, to tell their stories to the Lithuanian public."