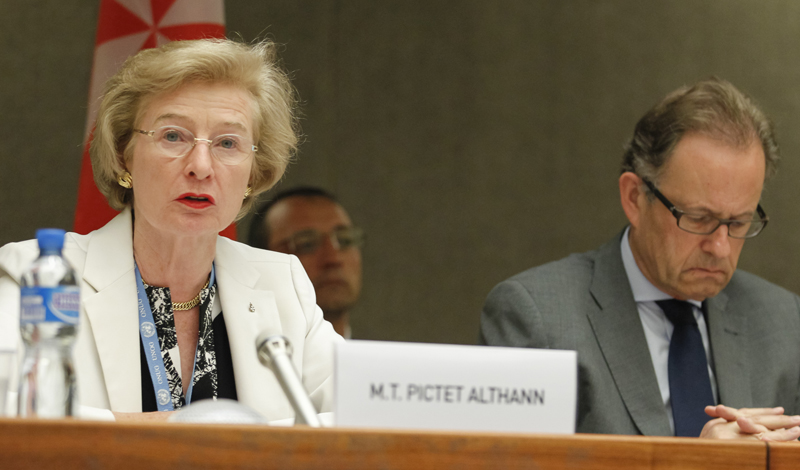 Supporting humanitarian action
Multilateral relations with the United Nations, European Union and the principal international organisations allow the Sovereign Order of Malta to take its expertise from the field to the diplomatic table.
Through its ambassadors and diplomatic representatives, the Order's views on issues at the core of its commitment – human rights, healthcare, food security – are represented on the international stage.
The Sovereign Order of Malta contributes with its expertise to global consultations and to the definition of possible fields of cooperation in healthcare, social assistance and emergency relief.
The Sovereign Order of Malta has relations at Ambassador level
The Sovereign Order of Malta has permanent observer missions to the United Nations and its Specialised Agencies:
United Nations – New York
United Nations – Geneva
United Nations – Vienna
ESCAP – United Nations Economic and Social Commission for Asia and the Pacific – (Bangkok)
FAO – Food and Agricultural Organization of the United Nations – (Rome)
IAEA – International Atomic Energy Agency – (Vienna)
IDLO – (International Development Law Organization) – (Rome)
IFAD – International Fund for Agricultural Development – (Rome)
UNECA – United Nations Economic Commission for Africa – (Addis Ababa)
UNEP – United Nations Environment Programme – (Nairobi)
UNESCO – United Nations Educational, Scientific and Cultural Organization – (Paris)
UNHCHR – United Nations High Commissioner for Human Rights – (Geneva)
UNHCR – United Nations High Commissioner for Refugees – (Geneva)
UNIDO – United Nations Industrial Development Organization – (Vienna)
UNODC – United Nations Office for Drugs and Crime – (Vienna)
UNOOSA – United Nations Office for Outer Space Affairs – (Vienna)
WFP – World Food Programme of the United Nations – (Rome)
WHO – World Health Organization – (Geneva)
The Sovereign Order of Malta has delegations or representations to International Organisations:
AU – African Union – (Addis Ababa)
CPLP – Community of Portuguese Language Countries – Lisbon
CTBTO- Preparatory Commission for the comprehensive nuclear-test-ban Treaty Organization – (Vienna)
ICCROM – International Centre for the study of the preservation and restoration of cultural property – (Rome)
ICMM – International Committee of Military Medicine – (Brussels)
ICRC – International Committee of the Red Cross – (Geneva)
IDB – Inter-American Development Bank – (Washington D.C.)
IIHL – International Institute of Humanitarian Law – (Sanremo, Geneva)
IFRC -International Federation of Red Cross and Red Crescent Societies – (Geneva)
IOC – Indian Ocean Commission – (Ebène, Mauritius)
IOF – International Organization of La Francophonie – (Paris)
IOM – International Organization for Migration – (Geneva)
IPU – Inter-Parliamentary Union (Geneva)
PAM – Parliamentary Assembly of the Mediterranean – (Naples)
SICA – Central American Integration System – (San Salvador)
UNIDROIT – International Institute for the Unification of Private Law – (Rome)
Council of Europe – (Strasbourg)