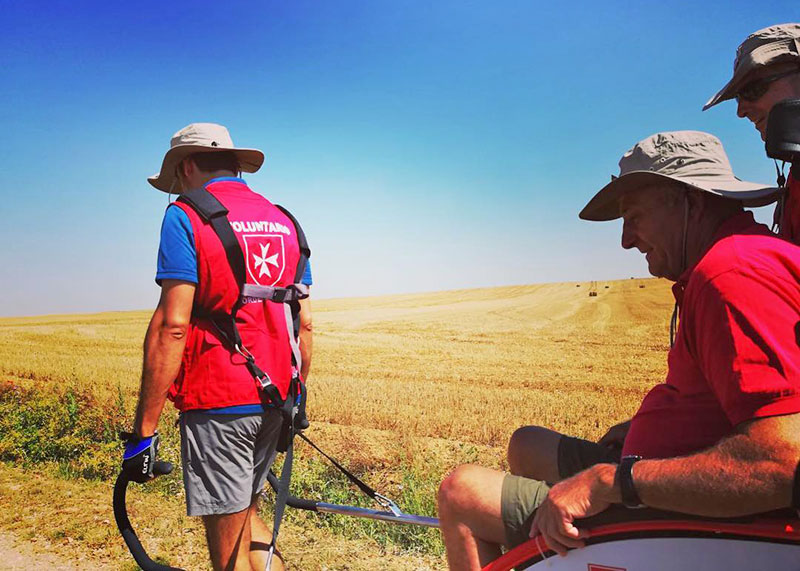 The diversity of the Order of Malta's projects ensures that there are opportunities for all
The Order of Malta counts on 95,000 dedicated volunteers for the successful running of many of its projects across the world. Year-on-year they care for the homeless living in isolation in cities, assist refugees arriving on European shores, provide first-aid and organise medical and social campaigns, respond to victims of natural disasters, accompany disabled guests on pilgrimages and summer camps, support the elderly housebound and prepare nourishing food for people living in poverty in bitter winters. Two of the biggest events of the year are the Lourdes pilgrimage, where over 7,000 participants travel to the Marian shrine, and the International Summer Camp for Young Disabled, running for over 30 years in different European countries. Volunteers from across the world join forces to care for their disabled guests and to meet friends old and new. Many national camps are also run across Europe and Lebanon. Local activities take place year-round with projects expanding and new ideas and collaborations emerging.
Spirit of volunteering
These 95,000 permanent volunteers include people of all ages, nationalities and faiths, inspired by the principles of the Order of Malta to serve the needy and the forgotten under the eight-pointed cross. Opening oneself up to others nourishes the spirit of new generations, encouraging their growth as people and as citizens. It is a phenomenon that the Order's volunteers experience at first hand, through the many projects and schemes where young people work alongside professionals: men and women who, thanks to their efforts, will become enriched and more socially conscious in the future.
The Order of Malta runs first-aid and ambulance corps in 33 countries that rely largely on the dedication of volunteers. The diversity of our worldwide projects ensures that there are opportunities for everyone. In addition to our permanent volunteers, there are those who are involved on a temporary basis on special projects.
If you are interested in volunteering for one of the Order's projects please contact the Association or Volunteer Corps in your country.
Vision 2050
The social commitment of volunteering has a special appeal for young people and inspires their resolve to volunteer their help for hospitaller initiatives. The Order of Malta has launched 'Vision 2050' to unite its young members and volunteers across the world. The aim is to provide support and assistance for volunteers involved in both local and international activities, enabling them to come together, share best practices and collaborate in their activities and discussions.
If you are an Order of Malta volunteer between the age of 18 and 35 you can join Vision 2050 through the website www.orderofmaltavision2050.com.