Responsible for religious and spiritual matters
The Grand Commander assists the Grand Master in fulfilling the charism of the Order and in the diffusion and protection of the faith, in the supervision of the Grand Priories and Subpriories, and in the supervision of the Members of the First and Second Class. Care of the chapel of the Magistral Palace and the organization of pilgrimages of the Order are included in the responsibilities of the Grand Commander. The Grand Commander exercises the function of Superior regarding Members of the First and Second Class in "gremio religionis"
He exercises the function of Lieutenant ad Interim in the case of death, resignation from office or permanent incapacity of the Grand Master.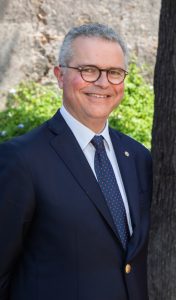 Grand Commander, H.E. Fra' Emmanuel Rousseau, Grand Cross of Justice
He was born in Nancy (Meurthe-et-Moselle, France) in 1969. He grew up in Italy, then in Moselle and Jura in France, before moving to Paris, where he completed his secondary education. He studied at the Lycée Henri IV in Paris and entered the École Nationale des Chartes, the school that has been training archivists and librarians in France since 1821. He graduated in 1996 with a diploma as a palaeographer and a thesis on the seals of the first five houses of the Order of Cîteaux from 1098 to 1516. He then studied at the École nationale du Patrimoine, which offers administrative training for heritage curators.
He joined the National Archives in Paris in 1997, where he was responsible for several departments until 2006. From 2007, he directed the departmental archives of Eure-et-Loir in Chartres for three years before returning to the National Archives. In 2012, he was appointed director of collections at the National Archives, where he was responsible for 200 employees and 371 linear kilometres of archives, from the 7th century to the present day. Since 2014, he has been general curator. He has published several books on heraldry and sealography and contributed to the most recent monograph on Chartres Cathedral.
After several years of scouting, in 1986 he became a volunteer in the French Hospitaller Works of the Order of Malta and worked for many years in the delegation of the 7th arrondissement of Paris, of which he was also the head. He actively participates in the activities of Ordre de Malte France. Fra' Emmanuel has participated in the Order's international pilgrimages to Lourdes since 1998 and it was there that he felt the call to a religious vocation in the Order through service to the sick. Admitted to the Order in 2003, he entered the novitiate in 2006 and made his solemn vows on 11 May 2011. He participated in the foundation of the Historical Academy of the Order of Malta in France and has published several historical works on the Order.
In 2009, he was elected as a member of the Sovereign Council of the Order of Malta and re-elected in 2014 and 2019. For over a decade, he has been the Curator of the Archives and Library of the Magistral Palace.
He took office as Grand Commander since 3 September 2022.