Receiver of the common treasure
Minister of Finance
The Receiver of the Common Treasure – the Minister of Finance – directs the administration of the finances and the property of the Order in coordination with the Grand Chancellor. Under the authority of the Grand Master and the surveillance of the Board of Auditors. He is responsible for drawing up the annual accounts, relating to the economic and financial state of the Order, submitting them to the Board of Auditors and to the Grand Master, with the advice of the Sovereign Council, for approval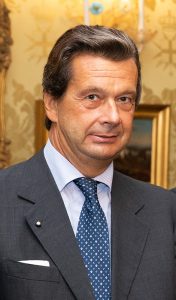 Receiver of the Common Treasure, H.E. Fabrizio Colonna, Grand Cross of Honour and Devotion in Obedience
Born in Rome in 1961, Fabrizio Colonna earned his classical high school diploma at the Jesuit Institute "M. Massimo" in Rome and then graduated in Law at "La Sapienza" University in the Italian capital. He is married and has two daughters.
Fabrizio Colonna is a lawyer and has carried out his professional activity first in Rome, then in London, Paris and Milan, working in various international firms as well as in Italian and foreign banks as head of legal affairs. He is an expert at the Court of Milan in civil and criminal matters for banking, insurance and compliance law. He has held the position of commissioner and judicial liquidator in extraordinary procedures on behalf of the Ministry for Economic Development and the Bank of Italy. He has a long experience in the field of international contracts, especially in the field of Fintech, compliance and financial and insurance regulation.
Fabrizio Colonna joined the Order of Malta on 11 December 1985 as a Knight of Honor and Devotion, in Obedience since 2014. Between 2007 and 2018 he was Group Leader of the Italian Relief Corps in Lombardy, Pro -Receiver of the Grand Priory of Lombardy and Venice between 2010 and 2016, Pro-Charitable Assistant for the same Grand Priory between 2016 and 2018. He was a member of the Board of Auditors from 2012 to 2018, first Counselor and then Deputy- President of the Italian Knights of Malta Association. He participated in 13 pilgrimages to Lourdes and 13 pilgrimages to Loreto.
He took office as Receiver of the Common Treasury on 3 September 2022. The Extraordinary Chapter General of 25-29 January 2023 has reconfirmed him for another six years.