Russia and the Order of Malta 1697-1817: a book launch in Moscow
19/06/2019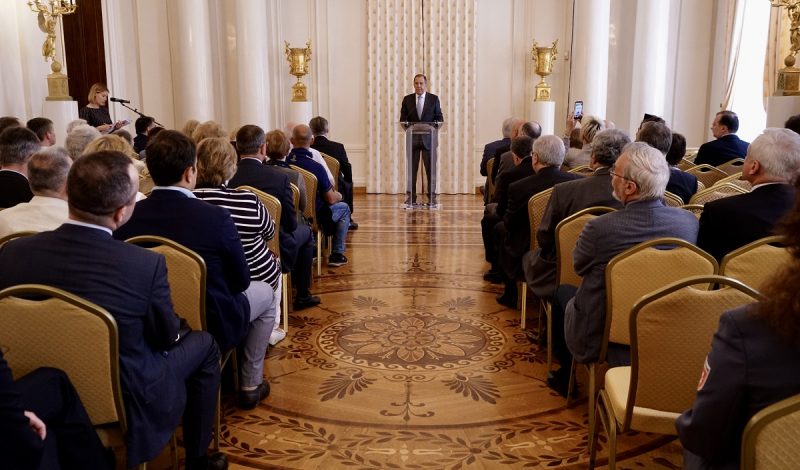 Foreign Minister Lavrov: a truly unique work that bears witness to the historic relations between the Order of Malta and Russia
The book "Russia and the Order of Malta. 1697-1817" was launched yesterday in the Ministry of Foreign Affairs, Moscow. The fruit of an intense four years of work, the book contains papers from the archives of the Grand Magistry of the Sovereign Order of Malta, the Malta National Library, the French National Archives and Foreign Ministry as well as the Vatican Secret Archives. The volume bears witness to the intense relationship between the Order of Malta and Russia over the centuries, covering important historic events such as the appointment of Tsar Paul I as de facto Grand Master from 1799 to 1801 and the invaluable support given to the Order during one of the most dramatic moments of its long existence, after the taking of Malta.
The documents collected in this book show us "the origin of the bilateral relations that were re-established in 1992. Today, the relations between the Sovereign Order of Malta and Russia are multifaceted, friendly and fruitful," said the Russian Foreign Minister, Sergey Lavrov. "We are determined to seek a peaceful solution to the humanitarian emergencies occurring in so many parts of the world, including the Middle East and North Africa," the Russian minister continued, emphasizing the cooperation with the Order of Malta which in Russia manages various initiatives in the health and social sectors.
"There are many noteworthy aspects emerging from these documents," wrote Grand Chancellor Albrecht Boeselager in the foreword of the book, "such as the importance of the naval school in Malta, in which many French and other navy officers were trained, and Russian's interest in it for the expansion of its fleet in the Mediterranean," he explained. The Grand Chancellor also expressed his gratitude to Minister Lavrov and the Russian Federation Ambassador to the Order of Malta, Alexander Avdeev, for having so strongly promoted a publication that, he added, "represents a further milestone in the centuries-old relationship between Russia and the Sovereign Order of Malta."
In his speech for the book launch, the Order of Malta's Grand Hospitaller, Dominique de La Rochefoucauld-Montbel, emphasized the many current initiatives ensuing from bilateral cooperation. These include the health and social centres in various Russian cities, including St. Petersburg and Moscow, and the memorandum of understanding signed in 2010 for interventions during humanitarian emergencies.
The publication of this precious book will coincide with a significant occasion that again stresses the fertile relations between the Order of Malta and Russia, and that is the 25th anniversary of the Order of Malta's emergency service in Moscow for helping people in difficulty.
The book, which also contains hand-written letters by Tsar Peter the Great, will also be published in French.