Discourse of the Doyen of the Diplomatic Corps accredited to the Sovereign Order of Malta
21/01/2021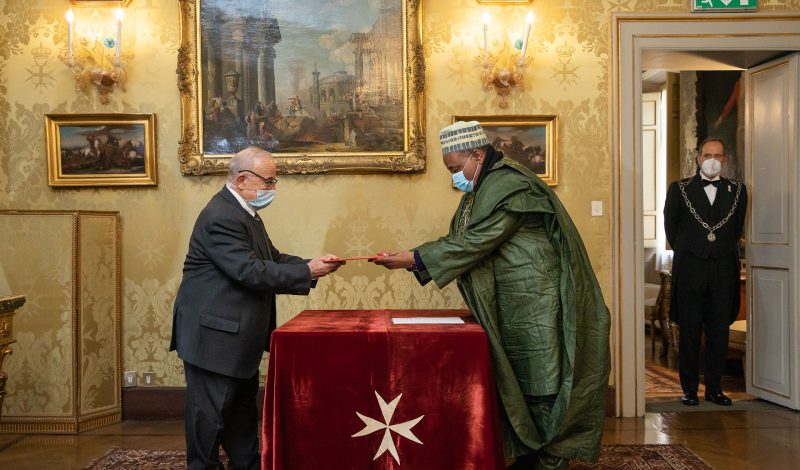 Excellency,
First of all, on behalf of the entire Diplomatic Corps, I would like to thank you for this special audience in place of the traditional solemn ceremony for the presentation of greetings. This meeting shows your willingness to keep the torch of cooperation burning despite current health restrictions.
This is an opportunity to reiterate the Diplomatic Corps' warmest congratulations after the Complete Council of State elected you as Lieutenant of the Grand Master. We wish you every success in carrying out these high responsibilities. This election is seen as a ray of light in a singularly dark year with the passing of His Most Eminent Highness, the Prince and Grand Master Fra' Giacomo Dalla Torre del Tempio di Sanguinetto. We remember him as a man of great humility and we pay tribute to him for his action as head of the Order.
Your institution has demonstrated the indisputable solidity of its organization. Thanks to its centuries-old mechanisms, the transition went smoothly. This solidity is reinforced by the Order's constant determination to keep pace with contemporary society with its current reforms to the Constitution and the Code.
The arrival of the Covid-19 pandemic in 2020 has worsened people's living conditions, and especially the most vulnerable, already threatened by poverty, conflicts, economic insecurity, famine, natural disasters and climate change among other things. Faced with these challenges and animated by the Christian principles on which its existence is based, as usual the Order of Malta has continued to provide a response to the needs of people in distress worldwide.
In addition to the Order's customary assistance to the homeless, prisoners, migrants, the elderly, the disabled and other marginalized people, there have been innovative actions in response to the current pandemic. With courage, professionalism and enthusiasm, the Order's members, volunteers and staff have been fully engaged in health and social assistance, ensuring that tens of thousands of vulnerable people receive support – ranging from food and medicine deliveries to people living in isolation to telephone psychotherapy to deal with the psychological effects of quarantine and confinement. Transport was provided for thousands of people unable to move independently. Thousands of masks and personal protective devices were distributed. Services to rough sleepers and families in economic difficulty continued, and soup kitchens were opened or continued in safe conditions.
These activities are performed wherever needed without geographical, ideological or religious limits. You have brought your knowhow to various fronts through your entities, such as the Grand Priories, the Delegations, the Military Corps, Malteser International, The Global Fund for Forgotten People and other local associations. For example:
– In the Middle East: mainly in Lebanon where, after the catastrophic explosion that killed over 200 and injured 7000, the Order took action with mobile clinics and free health services in the most affected areas, including accommodation for families whose homes have been destroyed; in Iraq, the resettlement of families displaced by war, constructing houses and schools, continues.
– Across Europe: solidarity campaigns have been launched, particularly for the elderly, such as in Germany and Lithuania. Teams have been deployed to support the Covid-19 vaccination campaign; in Petrinja, Croatia you are working hard to provide shelter and medical assistance to the victims of the violent earthquake that struck the city on 29 December 2020; in Latin America, the «Doctors to Doctors» initiative, in its «Doctores en la red» version to facilitate the exchange of experiences and best practices in Covid-19 management among infectious-disease, epidemiology and emergency medicine experts as well as policy makers from different countries, has involved several countries including Peru, Ecuador and Colombia, which have regularly held online meetings to this effect.
– In Africa: many projects have been transformed into health, sanitation and prevention programmes to curb the spread of Covid-19. The Order of Malta supports the national health authorities of a number of countries in patient management. An Emergency Medical Team (EMT) from Malteser International was sent to Cameroon on 22 June 2020 to help deal with Covid-19. The team consisted of six professionals, doctors, anaesthesiologists and experts in the fields of water, sanitation, hygiene and logistics.
Excellency,
Through these multiple actions, the Order has continued to bear witness to the faith and help the poor. It has always remained faithful to the ideals of Blessed Gerard, its founder and first Grand Master, the 900th anniversary of whose death was commemorated on 3 September last. Today, the Order of Malta is present in almost all countries of the world with health and social activities carried out by a network of 13,500 members, 80,000 volunteers and some 40,000 professionals, and is a point of reference in humanitarian diplomacy.
In 2020, you continued to expand and consolidate bilateral and multilateral ties.
This dynamism is demonstrated by important initiatives such as the Grand Master's official visit to the Republic of Benin in January 2020; the establishment of diplomatic relations with the Republic of Estonia; the official visits of Heads of State to the Magistral Palace in Rome, including H.E. George William Vella, President of the Republic of Malta and H.E. Jánosz Áder, President of the Republic of Hungary.
The Diplomatic Corps, on whose behalf I have been received here, has been enriched by new members who presented their credentials during the year that has just ended. These are the ambassadors from Thailand, Bosnia and Herzegovina, Lebanon, Ecuador, Kazakhstan, Colombia, Nicaragua, Estonia and European Union. We give them a warm welcome and wish them success in the accomplishment of their missions.
As official representatives of our countries, we are always ready to facilitate your humanitarian activities, to support your efforts, and to maintain the good relations between your institution and our respective governments.
Excellency,
On behalf of all the members of the Diplomatic Corps accredited to the Sovereign Military Hospitaller Order of St John of Jerusalem of Rhodes and of Malta, allow me to extend to you, to the Sovereign Council, to the Order's members as well as its volunteers and employees, our best wishes for the year 2021 which has just begun.
Thank you,
Antoine ZANGA
Ambassador of Cameroon
Doyen of Diplomatic Corps
Accredited to the Sovereign Military
Hospitaller Order of St. John of Jerusalem
of Rhodes and of Malta